'Arrested Development' Season 4 Remix Arrives This Week, Season 5 Coming "Real Soon"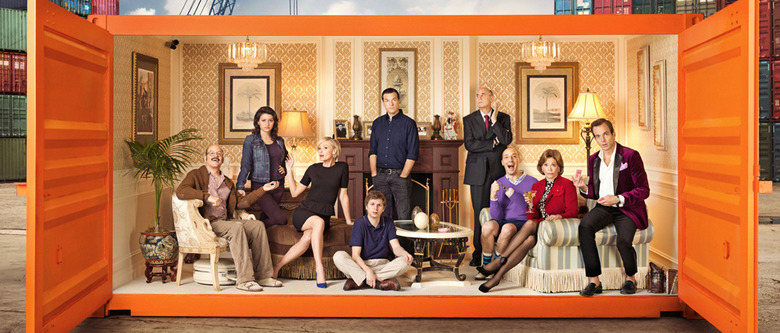 Here's some good news for Arrested Development fans. In an announcement on Twitter earlier today, creator Mitch Hurwitz said that season 5 of the show is coming "real soon." So soon, in fact, that we should be surprised that we're only hearing about the release date now. But while its exact premiere date remains a mystery (for now), Hurwitz is following through on a promise he made back in 2014: an Arrested Development season 4 remix is coming to Netflix this week. It'll arrive on "Cinco de Cuatro," a holiday with particular significance to the show's primary family.
Here's Hurwitz's announcement, which came through the official Twitter account for the series. Some of the wording and formatting is a little odd, so I'm guessing hardcore fans are already hard at work trying to glean any weird codes or hidden material it may contain. Read it for yourselves:
On the next... Arrested Development pic.twitter.com/NjP26k9KE7

— Arrested Development (@arresteddev) May 1, 2018
Back in 2013, when resurrecting beloved TV shows still felt exciting,  Netflix gave the cult classic comedy series new life in the form of a 15-episode fourth season. But the cast, led by Jason Bateman's Michael Bluth, had become significantly more in-demand than when they were when the show was originally airing on Fox, which meant Hurwitz had to get creative with the structure. Instead of a season in which the characters interacted with each other in every episode (like the first three seasons), Hurwitz worked the schedule out the best he could and tried a Rashomon-style experiment in which each each episode focused on a single character and told a story from his or her perspective. It was a controversial choice, and while it had a few defenders, it mostly just made me sad to watch and sapped much of the joy from the series.
But this Friday, Netflix will unveil Arrested Development Season 4 Remix: Fateful Consequences. Hurwitz crafted the existing 15 episodes into 22 shorter episodes that were the standard length of the rest of the series, joking (or maybe not?) about how he wants the show to be syndicated one day. This arrives on "Cinco de Cuatro," a racist "holiday" concocted by the Bluths in the early 1980s to negatively impact their Hispanic employees. The Cinco de Cuatro festival in season 4 was ground zero for Lindsay Bluth Fünke (Portia de Rossi) to make an impassioned right-wing speech about building a border wall between the U.S. and Mexico. (This was weirdly prophetic, since it aired long before Donald Trump made similar promises.)
Hurwitz has been talking about recutting the fourth season into chronological form since 2014, and despite the fact that fans beat him to the punch almost immediately, it seems as if it took Hurwitz much longer to get around to it.
As for Arrested Development season 5, we'll let you know when we hear about an official release date. In the meantime, the whole series is currently streaming on Netflix.