'Evil Genius' Trailer: Netflix Investigates A Bizarre Bank Robbery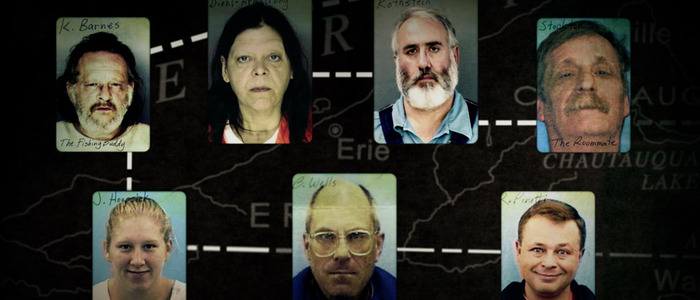 In 2003, a man walked into a bank and said he had a bomb locked around his neck. The story only got weirder (and deadlier) from there. Now, Netflix will dig into this very strange case with a new documentary Evil Genius. Watch the Evil Genius trailer below.
I distinctly remember the events of the so-called "pizza bomber heist" unfolding on the news in 2003. It was a truly strange event that seemed utterly surreal; like the type of story you only see in the movies. Indeed, the event actually was turned into a movie – the 2011 film 30 Minutes or Less, which fictionalized the events and turned the whole story into a dark comedy. Now the true story takes center stage in the Netflix documentary Evil Genius. Watch the trailer below.
Evil Genius Trailer
This looks utterly fascinating, and appears to reveal so much more about the case that I never knew. The story involves Brian Wells, a pizza delivery man who walked into a bank with a collar-bomb – a device that looked like something from a Saw movie – strapped around his neck. As Wikipedia states, Wells had a set of instructions that "listed a series of strictly timed tasks to collect keys which would delay the detonation, and eventually defuse it. Additionally, it warned that Wells would be under constant surveillance, and any attempts to contact authorities would result in the bomb's detonation. 'ACT NOW, THINK LATER OR YOU WILL DIE!' was scrawled at the bottom of the instructions."
Eventually, the bomb did go off. It's an utterly diabolical story, and this doc examines the twisted people who set it in motion. Evil Genius looks like another true crime winner from Netflix, who are responsible for the engrossing true crime docs Making a Murderer, The Keepers, and the recent Wild, Wild Country.
Evil Genius arrives on Netflix May 11, 2018.
The truth behind an extraordinary criminal case, known as the "pizza bomber heist," is brought to light in the four-part Netflix original documentary series Evil Genius: The True Story of America's Most Diabolical Bank Heist. In 2003 in Erie, Pennsylvania, a robbery gone wrong and a terrifying public murder capture the nation's attention, and a bizarre collection of Midwestern hoarders, outcasts, and lawbreakers play cat-and-mouse with the FBI. Eventually, a middle-aged mastermind named Marjorie Diehl-Armstrong — once a town beauty, now a woman grappling with mental illness — is arrested. But 15 years later, Evil Genius proves there's more to the conspiracy and murders than was ever thought.