Joss Whedon Says He Wrote First 'Avengers' Alone, Almost Added Wasp To The Film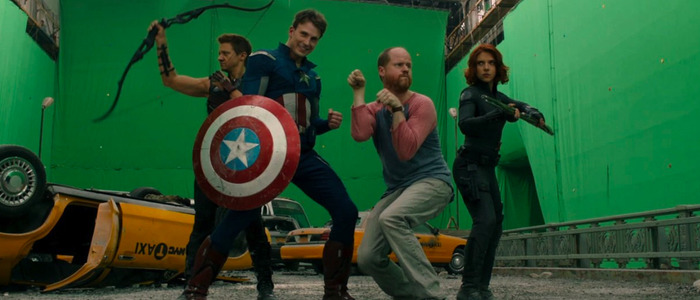 Joss Whedon is done with the Marvel Cinematic Universe, but at one time, he had the keys to the kingdom. In a new interview, Whedon looks back at his Marvel days, and confirms that he wrote the first Avengers script alone, despite a shared credit with Zak Penn. Whedon also says he almost had The Wasp in his film.
Credit Where Credit is Due
Remember when Joss Whedon was pretty much in charge of the MCU? That seems like a very, very long time ago. Whedon jumped ship after Avengers: Age of Ultron, but for a while he had heavy influence over the cinematic universe. In a new piece at Thrillist, Whedon drops some knowledge on his Marvel days. Specifically, he confirms that even though he shares a writing credit on the first  Avengers film with Zak Penn, the script was his and his alone. He even tried to get a sole writing credit, but the Writers Guild rules kept that from happening:
"I started at square 1 on the script. I mean, straight up. I don't wanna rag on it, but I fought that credit. I was very upset about it. I know how the Guild works, first guy on a movie and all that, but I've never had good luck with arbitrations...I read [Penn's script] one time, and I've never seen it since. I was like, 'Nope. There's nothing here.' There was no character connection. There was a line in the stage directions that said, apropos of nothing, 'And then they all walk towards the camera in slow motion because you have to have that.' Yeah, well, no: You have to earn that."
Ouch. In a previous interview with GQ, Penn also confirmed this and didn't seem very bitter about it. "We could have collaborated more, but that was not his choice," Penn said. "He wanted to do it his way, and I respect that. I mean, it's not like on the Hulk, where I got replaced by the lead actor." Penn is referring, of course, to star Edward Norton, who came into 2008's The Incredible Hulk and rewrote much of the script.
The Wasp In Avengers
The Wasp made her big screen debut in Ant-Man, and we'll see two versions of the character – mother Janet Van Dyne and daughter Hope Van Dyne – in the upcoming Ant-Man and the Wasp. But according to Whedon, the Wasp almost played a big part in the first Avengers. As Whedon tells it, there was a concern that Black Widow actress Scarlett Johansson wouldn't be available for the film. With that in mind, Whedon wrote the Wasp into the script to take her place. Whedon also says that he wasn't sure if Loki was a big enough threat for the film, and considered adding an additional villain:
"I wrote a huge bunch of pages starring The Wasp. That was not useful. I also worried that one British character actor was not enough to take on Earth's mightiest heroes, and that we'd feel like we were rooting for the overdog. So I wrote a huge draft with Ezekiel Stane, Obadiah Stane's son, in it."
Of course, we now know none of that ended up in the final film. The Wasp didn't appear, Loki acted alone, and The Avengers became a huge box office hit. As for Whedon, he left Marvel and went off to help co-direct Justice League.