John Cena Replaces Dwayne Johnson As Lead In 'The Janson Directive'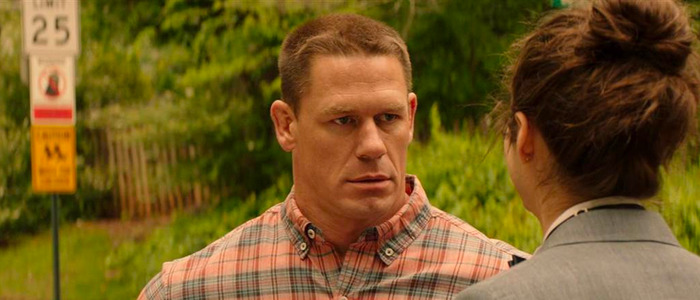 Large men Dwayne "The Rock" Johnson and John Cena are teaming for an adaptation of Robert Ludlum's The Janson Directive. Sort of. Johnson was originally going to star in the film, but his busy schedule has gotten in the way. Now, Cena will fill the part Johnson has vacated while Johnson serves as executive producer.
The Janson Directive, a posthumous novel from Bourne Identity author Robert Ludlum, is getting the big screen treatment. Previously, Dwayne "The Rock" Johnson was all set to star in the film. But as I'm sure you know, The Rock is a busy man. So busy, in fact, that he's had to vacate the lead role and hand it over to fellow wrestler-turned-actor John Cena.
I'm already seeing some misleading headlines indicating Johnson and Cena will star in the movie together, but please don't be fooled. That's not what's happening here, as cool as that might be. Instead, Johnson will now serve as executive producer. Johnson made the announcement via Instagram, as he's wont to do.
James Vanderbilt is adapting Ludlum's book into a film, from a story co-authored with Akiva Goldsman. Here's the book's synopsis.
When billionaire philanthropist Peter Novak is kidnapped by a terrorist known as The Caliph, it's up to Paul Janson?a legend in the notorious U.S. covert agency Consular Operations?to save him. But Janson's rescue operation goes horribly wrong...and soon Janson is marked for death, the target of a "beyond salvage" order issued from the highest level of the government. Now Janson is running for his life, pursued by Jessica Kincaid, a young agent of astonishing ability who can anticipate and counter his every move. To survive, Janson must outrace a conspiracy that has gone beyond the control of its originators. To win, he must counter it with a conspiracy of his own...
Cena will play Paul Janson.
Casting announcements aren't the only thing Johnson is making via his Instagram. He's also out there pitching movies, as well. The actor and producer took time out of very busy schedule of acting in all the movies and lifting all the weights to suggest that he and Avengers: Infinity War and Jurassic World: Fallen Kingdom actor Chris Pratt should do a movie together.
Johnson stops short of saying just what the idea of this movie will be about, so you'll have to use your imagination. A Johnson-Pratt movie actually sounds like a pretty swell idea – the two would likely have good comedic chemistry.
Skyscarper, Johnson's next film, opens on July 13, 2018.