James Cameron Loves '2001: A Space Odyssey' But Says It Lacks "Emotional Balls"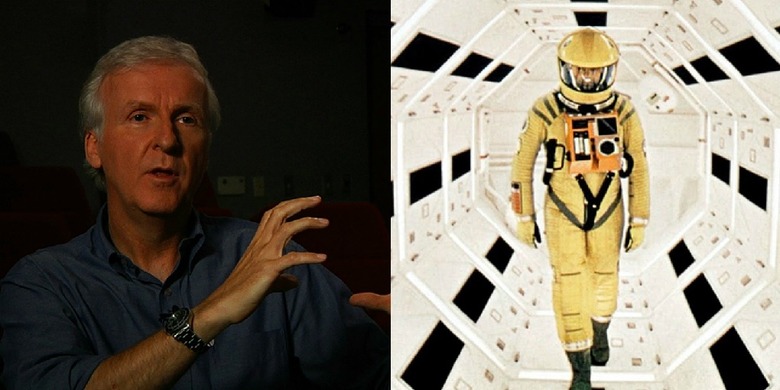 James Cameron has been in the internet's hot seat lately for saying a lot of dumb, polarizing things. But this one may take the cake.
Cameron was asked about his cinematic influences that helped him shape his decades-long career as one of the sci-fi greats — one of which was understandably Stanley Kubrick's seminal 2001: A Space Odyssey. But Cameron apparently loves nothing more than the taste of his feet, because his latest quote is a classic foot-in-the-mouth move from the Titanic and Avatar director.
James Cameron loves 2001: A Space Odyssey, but he doesn't like it. And no, he's not misquoting a Flo Rida song, Cameron is explaining how he could not completely embrace a film that helped shape him as a director.
In an interview with The Star, Cameron said that Kubrick's 1968 sci-fi magnum opus "had an enormous, enormous impact" on him when he was younger, but still finds it a little too "sterile."
"It's not a film that I like; it's a film that I love. When I say I don't like it, it's that I don't like the feel of the film. I don't like its sterility. I like a film with a little more emotional balls, just as a movie, to get involved in. But as a work of art, I love [2001]. It had an had an enormous, enormous impact on me, at a certain point."
But sterile or not, Cameron still thinks of the film fondly, recounting to The Star how he first saw the movie at age 13 in Toronto, five days after it opened in 1968. "It was probably five days after it opened, the summer of '68," Cameron says. "I watched [2001] from front row centre in the balcony, which put me dead in line to the Star Gate [Jupiter trip sequence], right on the axis, so I felt like I was falling down through the Star Gate."
Cameron is not the only major director to look to 2001 as a major influence on his work. Christopher Nolan is famous for his undying love for 2001: A Space Odyssey, which he thinks should be required viewing for every 7-year-old. Nolan is even bringing an unrestored 70mm print of 2001 (probably his own personal copy) to screen at Cannes next month, just in time for the 50th anniversary 70mm re-release hitting select theaters this May. Let's hope Nolan doesn't hear what Cameron has to say about 2001. Or actually, let's hope that he does, because I suddenly want to see these two major sci-fi filmmakers tussle over the honor of a 50-year-old classic film.