'Solo: A Star Wars Story' Featurette: How Han Became Han Solo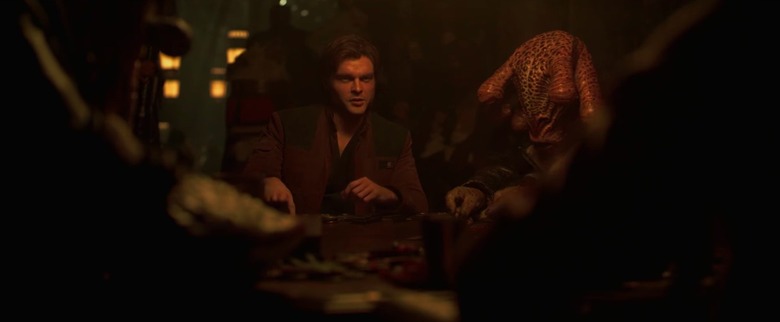 Every hero needs an origin story, and every swaggering space smuggler needs a spin-off movie that shows exactly how they became a fan favorite Star Wars character immortalized by Harrison Ford. A new Solo featurette dives into its mysterious title character Han Solo, played by Alden Ehrenreich, and how he comes to live up to that iconic name.
Solo Featurette
Solo: A Star Wars Story delves into a galaxy far, far away that is both familiar and not. Taking place a few years before the events of Star Wars: A New Hope, the standalone film gives us a chance to learn more about Han Solo, that iconic character originated by Harrison Ford. Alden Ehrenreich has the intimidating job of stepping into Ford's formidable vest and boots, but his Han Solo is a little different than the cocky smuggler we first meet.
A new featurette for Solo: A Star Wars Story shows us exactly how a young, green pilot becomes the one we know and love. Hotheaded, cocksure, and bullish, Han Solo starts off on the right side of the law before becoming embroiled in a heist that gets him involved with notorious criminals like Tobias Beckett, Dryden Vos, Val, and Lando Calrissian. But he does make some lifelong friends like Chewbacca on the way.
"You end up getting to see how this guy got to be the guy that he is. It's a great expansion of the Han Solo world," Ehrenreich says in the featurette. The Han Solo world? Is that a hint that we may be seeing a whole trilogy of Han Solo films? We won't know until the film's release in May, but for now, we get to see Han at his very beginning.
"It's a rite of passage, the tests he needs to face, the challenges he has to endure, to become...Han Solo," director Ron Howard says, adding:
"The Star Wars universe that we see in Solo is different than anything we've seen in any of the Star Wars movies. The Empire controls everything, everyone is struggling to survive, but we discover this incredible free spirit.
And Han is truly a free spirit, getting into all sorts of hijinks because of his hotheaded ways. Including one scene in the featurette where Han jumps off a moving train and lands face-first. "He does these stupid things that should never work, and they do. And he does it with bravado!" Emilia Clarke says.
Solo: A Star War Story stars Alden Ehrenreich, Woody Harrelson, Emilia Clarke, Donald Glover, Thandie Newton, Phoebe Waller-Bridge, Joonas Suotamo, and Paul Bettany. The film opens in theaters on May 25, 2018.
Board the Millennium Falcon and journey to a galaxy far, far away in Solo: A Star Wars Story, an all-new adventure with the most beloved scoundrel in the galaxy. Through a series of daring escapades deep within a dark and dangerous criminal underworld, Han Solo meets his mighty future copilot Chewbacca and encounters the notorious gambler Lando Calrissian, in a journey that will set the course of one of the Star Wars saga's most unlikely heroes.