'Song Of Back And Neck' Review: Toby From 'The Office' Laughs Through The Pain [Tribeca]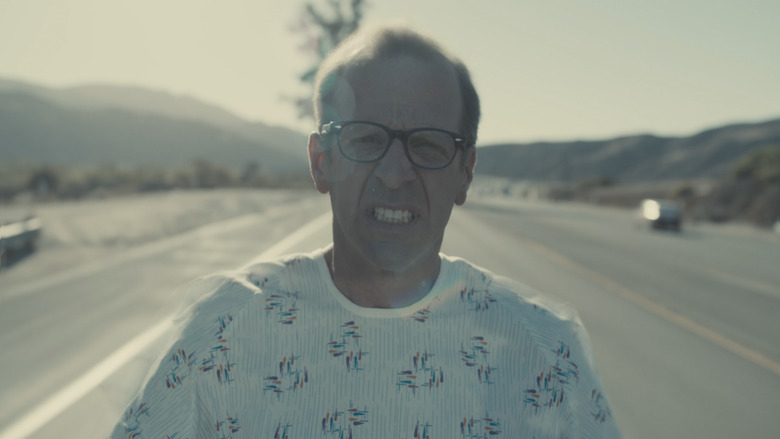 Do we really need another sad middle-age white guy comedy? Probably not, but if we have to have them, at least let them be more like Paul Lieberstein's Song of Back and Neck. The artist best known to audiences as Toby from TV's The Office makes his first step behind the camera for feature filmmaking to largely positive results, handling some slightly morose material with equal parts sincerity and dry humor.
Lieberstein stars as Fred Trolleycar, a mild-mannered office drone who suffers from chronic back and neck pain. He's taken his woes to the top doctor in the state, only to hear that his options boil down to getting an addiction-inducing level of painkillers or expensive, lengthy surgeries that don't even guarantee a fix. The sharp jolts of paralyzing pain come out of the blue but with such frequency that Fred knows how to work around them. In the film's opening credits sequence, he does his entire morning routine while prone on his back. That's everything from getting dressed to eating his cereal.
Things aren't much better at the office, where he's belittled by upstart lawyer Atkins (Clark Duke) intent on claiming ownership of the firm from Fred's father. Life gets a little brighter when, in a plot point recalling Hitch, a beautiful woman comes in to have the company handle her divorce proceedings. He's instantly smitten with Rosemarie DeWitt's Regan, who suffers from the more existential pain of a loveless marriage and sheer boredom. Fred and Regan bond earnestly over their pain, swapping practical solutions and coping mechanisms. She has more luck curing him, of course, by suggesting that he shift his energy away from physical ailment and into emotional issues.
Plus, she refers Fred to an acupuncturist who makes a revelatory discovery. Unfortunately, it has nothing to do with alleviating his aches. The practitioners realize when they insert the needles into Fred's back, his body emits a pleasant-sounding whistling noise. One man's pain is another person's pleasure, so naturally they find a way to turn Fred into a viral sensation in the Chinese community. It's an odd, unexpectedly humorous turn of events that livens up a fairly dour topic.
Song of Back and Neck plays host to a number of eclectic comedy styles, no doubt a function of Lieberstein's past experience on The Office and Ghosted. The varied angles on making light of pain helps the film maintain a sense of edginess and unexpectedness that it doesn't necessarily have at the plot level. (Hint: Regan's husband shows up.) We can anticipate our ultimate destination, but Leiberstein keeps us off base on guessing how to get there by throwing in a visual autocorrect gag before some droll understated wordplay.
The film might not exactly abound in profundity or originality, but Lieberstein lessens the impact with genuine compassion. The candid conversations Fred and Regan share about their pain ring with authenticity. While the world around them (and the film, for that matter) might scoff at their torment, the understanding they share and the healing they attempt is genuinely felt. DeWitt in particular, who has regularly been turning in richly emotional performances since 2008's Rachel Getting Married, sears with her take on the trope of the lonely housewife. Song of Back and Neck is Fred's movie, though, so her storyline gets a little bit of short shrift in the conclusion. She's ultimately a character in his personal dramedy, one that delights and entertains without too much provocation or surprise.
/Film rating: 7 out of 10