Guillermo Del Toro's 'Scary Stories To Tell In The Dark' Movie Begins Shooting This Summer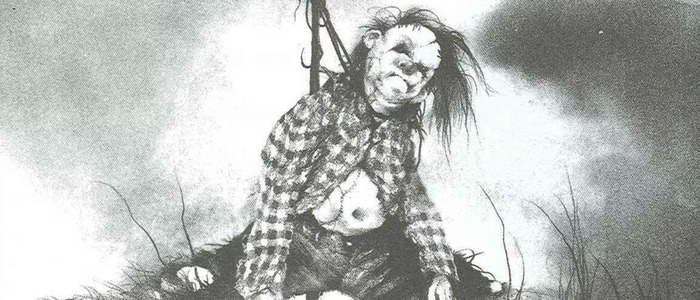 Guillermo del Toro and André Øvredal's Scary Stories to Tell in the Dark movie adaptation is moving forward at CBS Films and Entertainment One. The film will adapt Alvin Schwartz's terrifying, traumatizing folklore-inspired horror stories to the big screen. The Scary Stories To Tell In The Dark movie begins filming this summer.
When I was a kid, three of my most prized possessions were the three Scary Stories books penned by Alvin Schwartz and illustrated by Stephen Gammell – Scary Stories to Tell in the Dark, More Scary Stories to Tell in the Dark, and Scary Stories 3: More Tales to Chill Your Bones. The stories themselves – which were derived from folklore and urban legends – weren't that scary.  But Gammell's illustrations – which were highly stylized, and made use of drippy blank ink and consisted of traumatizing representations of ghosts, killers and other nefarious things – were the stuff of nightmares. Guillermo del Toro has been hoping to turn Scary Stories into a film for a few years, and now the Scary Stories movie is moving ahead with CBS Films and Entertainment One.
CBS Films was originally producing Scary Stories on their own. Now, Entertainment One and CBS Films will co-finance the film, which del Toro will write (with Daniel & Kevin Hageman) and produce. The Autopsy of Jane Doe and Trollhunter director André Øvredal will helm.
The film doesn't seem to be a direct adaptation of any of one of the stories from the books. Instead, it focuses on "group of young teens who must solve the mystery surrounding sudden and macabre deaths in their small town." There was a story in the books called The Curse which was sort of like this synopsis, but it appears that del Toro will merely draw upon the inspiration from the books as a whole to craft his own original story.
At one point, del Toro was planning to direct the film himself. Last year, however, he handed directorial duties over to Øvredal. While I'd personally prefer to see del Toro direct this himself, Øvredal is a great horror filmmaker, responsible for Trollhunter and the spooky, atmospheric Autopsy of Jane Doe, so the movie is in good hands. "Scary Stories to Tell in the Dark, led by the incomparable Guillermo del Toro, is such a chillingly fun ride that it's sure to leave audiences around the world jumping in their seats," said Steve Bertram, eOne's Film President.
I'm both very excited and slightly apprehensive about this project. I am a diehard fan of the books, and I'm a pretty damn big fan of del Toro. That said, the power of the books came from those creepy-as-hell illustrations from Stephen Gammell. If Øvredal and del Toro took the Sin City approach of using CGI backdrops to recreate the surreal, unpleasant look of Gammell's artwork, that could work, but I have a feeling that's not what will happen here.
Principal photography on Scary Stores is expected to begin this summer in Toronto, Ontario.