'Succession' Trailer: The HBO Dysfunctional Family Drama Sets A June Premiere Date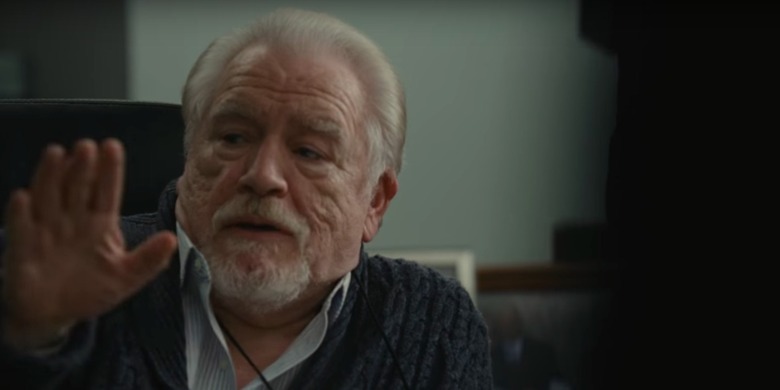 Good news, Adam McKay fans. His new HBO drama series about a dysfunctional family who curses a lot will fill all your The Big Short needs. McKay seems to have found himself a niche with high-powered corporate drama, and he continues that with Succession, which follows a cutthroat, dysfunctional American family that happens to own the biggest media company in the world. And the latest Succession trailer has something even better than Brian Cox cursing a mile a minute: it has the premiere date.
Succession Trailer
HBO has set a June premiere date for Succession, which follows the Roy family as the three children of the aging patriarch vie for his spot at the top of a global media conglomerate. Like you would expect from a McKay executive produced and directed series, there's plenty of profanity and people spouting corporate lingo in a way that sounds vaguely threatening. Leaders are undermined, family ties are broken, and Brian Cox looks very tired.
I have to admit, after watching two trailers for this series, my interest in this series is diminishing. Cox continually cursing at his children can only sustain you for so long when the rest of the show is filmed in muted grays and blacks. The biggest stars are Kieran Culkin and Matthew Macfadyen, who look like they get little to do aside from roll their eyes and backstab (but in the handing papers over menacingly kind of way). But these kind of tightly edited trailers don't do justice to the dialogue, which McKay and his team excel at. I'd be willing to give it a chance if the series has half of the zippy lines and banter of The Big Sick or Anchorman.
Created by Jesse Armstrong, Succession is executive produced by Adam McKay, Frank Rich (HBO's Veep), Kevin Messick, Will Ferrell, Jane Tranter (HBO's The Night Of) and Mark Mylod (HBO's Entourage).
Succession stars Brian Cox, Jeremy Strong, Kieran Culkin, Sarah Snook, Nicholas Braun, and Matthew Macfadyen.
Here is the official synopsis for Succession:
It's rebellion. It's sabotage. It's family. Premiering June 3 on HBO, 'Succession' tracks the lives of the Roy family as they contemplate their future once their aging father (Brian Cox) begins to step back from the media and entertainment conglomerate under his control.
Succession premieres on June 3, 2018 at 10 p.m. on HBO.