'Harry Potter: Hogwarts Mystery' Trailer: The Harry Potter Game Is Available Now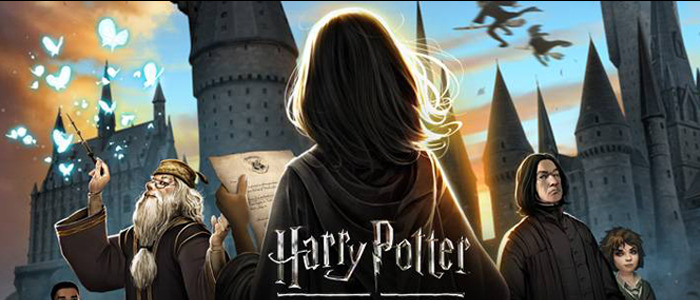 Harry Potter: Hogwarts Mystery, the newest Harry Potter game, is now available for download on mobile devices. If you're looking for one more little push to convince you to check it out for yourself, a new launch trailer has arrived, and you can watch it below. 
Harry Potter Game Trailer
The mobile game, which is the first of its kind for the Potter franchise, allows players to choose their own path as a student at Hogwarts School of Witchcraft and Wizardry, creating their own character, choosing their house, building relationships with other students, learning magic spells, and advancing through all seven school years in a brand new story. The graphics are admittedly a little rough, but I'm sure super fans won't mind when they're able to spend hours getting sucked into the rich world of J.K. Rowling's creation at the touch of a button.
ComingSoon has a bit more info:
Players will also be introduced to some original game characters like Penny, a popular Hufflepuff potions expert, Tulip, a rebellious Ravenclaw prankster, and Merula, a Slytherin with a dark past. As players unravel the Hogwarts mystery, they will explore familiar locations like Diagon Alley and Hogsmeade.
The game is set in the mid-1980s, after the Wizarding Wars but before Harry, Hermione, and Ron arrived at Hogwarts. But even though the main student protagonists from the movies and books won't be involved, fans will still get to interact with recognizable characters. The voice cast is stuffed with returning actors from the movies, including Michael Gambon as Dumbledore, Maggie Smith as Professor McGonagall, Warwick Davis returning as Charms Professor Flitwick, Sally Mortemore as the librarian Irma Prince, Gemma Jones as Madam Pomfrey, and Zoe Wanamaker as Madam Hooch. There are other returning characters as well, but they'll have different voices; keep an eye out for Hagrid, Severus Snape, and more.
Harry Potter: Hogwarts Mystery, developed by Jam City, is the first mobile game in which players can create their own character and experience life as a Hogwarts student. The game will launch under Portkey Games, a new games label dedicated to creating new Wizarding World mobile and video game experiences that place the player at the centre of their own adventure, inspired by J.K. Rowling's original stories.
Harry Potter: Hogwarts Mystery is available now through the iOS App Store, Google Play store, and Amazon's app store.