Amy Adams Will Star In 'The Woman In The Window' For Director Joe Wright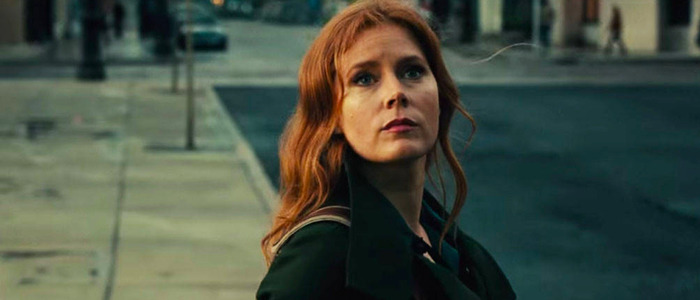 Amy Adams and Joe Wright are teaming for an adaptation of A. J. Finn's novel The Woman in the Window. Adams will play a recluse who spies on her neighbors, and who one days witnesses something she shouldn't. More on the Woman in the Window movie below.
Hey, this sounds potentially great. Amy Adams, one of those actresses who is good in everything (even though the Academy keeps snubbing her like a bunch of jerks) will star in an adaptation of the best-selling novel The Woman in the Window. Atonement and Darkest Hour filmmaker Joe Wright will helm the adaptation, and Killer Joe writer Tracy Letts is penning the screenplay, per Variety. That's one killer line-up of talent right now. Give this movie to me now, please and thank you.
The Woman in the Window sounds like a novel in the vein of Gone Girl and Girl On the Train, with a little of Alfred Hitchcock's Rear Window thrown in for good measure. Here's the book synopsis.
Anna Fox lives alone—a recluse in her New York City home, unable to venture outside. She spends her day drinking wine (maybe too much), watching old movies, recalling happier times . . . and spying on her neighbors.
Then the Russells move into the house across the way: a father, a mother, their teenage son. The perfect family. But when Anna, gazing out her window one night, sees something she shouldn't, her world begins to crumble—and its shocking secrets are laid bare.
What is real? What is imagined? Who is in danger? Who is in control? In this diabolically gripping thriller, no one—and nothing—is what it seems.
Alright, this doesn't sound very original at all. In fact, it sounds derivative as hell. Not only are the Rear Window connections very blatant, but Girl on the Train (which was also turned into a movie, and not a very good one to boot) also had the same "lonely alcoholic woman who witnesses something she shouldn't have" plot.  But the combination of Amy Adams, Joe Wright and Tracy Letts is more than enough to get me excited for The Woman in the Window. I'll just ignore the unoriginality and focus on all that good stuff instead.
The Woman in the Window came out in January and remains the biggest-selling adult fiction title of 2018, with over one million copies sold in the U.S. There was a movie deal for the book before it even hit shelves, all the way back in 2016.