Harrison Ford Joins 'The Secret Life Of Pets' Sequel, Patton Oswalt Replaces Louis C.K.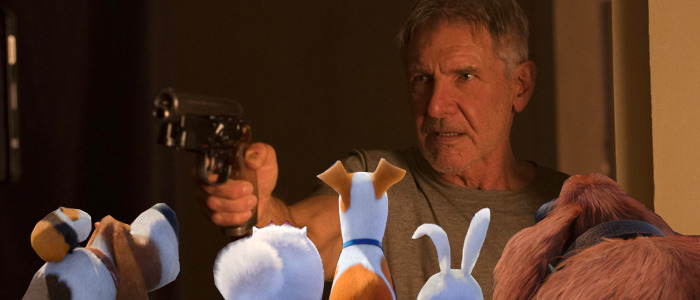 Animation studio Illumination Entertainment had a huge hit with 2016's The Secret Life of Pets, so a sequel was inevitable. But The Secret Life of Pets 2 cast just got a whole lot more interesting, because Harrison Ford has come on board in his first voiceover role for an animated feature film. And that's not all – Girls Trip star Tiffany Haddish is also going to be in this movie, which is about as perfect an addition to that world as I could imagine.
Learn about even more new cast members below, including the actor tasked with taking over the lead character's voice.
The Secret Life of Pets was a box office juggernaut in 2016, pulling in over $875 million worldwide. The film followed a terrier named Max whose happy life with his owner was upended when the owner brings home a new dog named Duke. Louis C.K. voiced Max in the original, but considering he's since become mired in a sexual misconduct scandal and rightfully retreated from the public eye, he's being replaced as the lead.Deadline reports that Patton Oswalt will take over as the voice of Max, and he'll be joined by Ford, Haddish, Nick Kroll, and Pete Holmes. All of those performers have distinct and entertaining voices, so on paper, they should work particularly well here. (It should be especially fun to see Haddish reunite with Kevin Hart after their upcoming live-action movie Night School.)
The outlet claims Ford will "lead the cast" in the sequel, but it's unclear if they're referring to the actual plot of the story (which is still under wraps) or if they're just saying he's the biggest actor among the cast. Returning players from the first movie include Kevin Hart, Jenny Slate, Eric Stonestreet, Ellie Kemper, Lake Bell, Dana Carvey, Hannibal Buress, and Bobby Moynihan.
Ford has done some voice work on very rare occasions in the past, lending his gravelly intonations to the LEGO Star Wars: The Force Awakens video game and voicing the Ocean in this conservation ad from 2014:
It's easy to imagine him voicing a gruff, menacing pet, but I'm hoping the sequel tones down its manic antics this time around. The first film was a chaotic mess, a Toy Story riff with no discernible themes or interests beyond shutting kids up and giving tired parents an excuse to sit in an air-conditioned theater for 90 minutes. Here's hoping Ford's first foray into animated features has a lot more on its mind.
The Secret Life of Pets 2, which will also feature the return of director Chris Renaud and writer Brian Lynch, will hit theaters on June 7, 2019.