Hank Azaria Addresses 'The Simpsons' Apu Controversy: "I'm Perfectly Willing To Step Aside"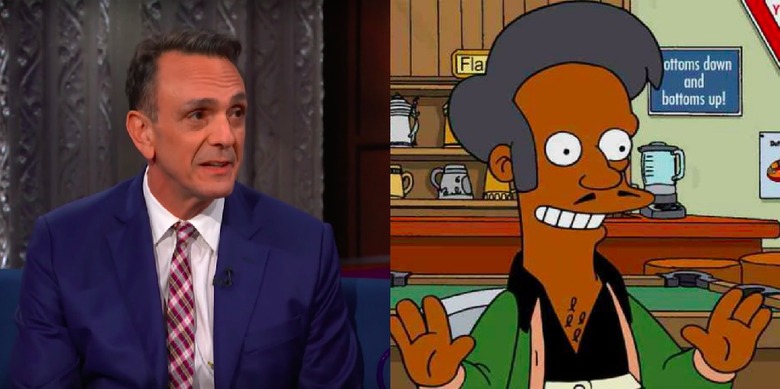 The problem with Apu has reached a fever pitch ever since The Simpsons decided to clumsily brush off criticisms of the character's Indian stereotypes. But the voice actor behind Apu, Hank Azaria, has a much more dignified response to the controversy.
Azaria stopped by The Late Show with Stephen Colbert on Tuesday night to promote the new season of his IFC comedy Brockmire, but the conversation naturally turned to Apu, the heavily accented Kwik-E-Mart owner that Azaria has voiced for 20 years. And Azaria officially addressed the whirlwind of controversy around his character.
When asked about the Indian stereotypes that Apu embodies, which were highlighted in Hari Kondabolu's documentary The Problem with Apu, Azaria said:
"Of course I understand. Its come to my attention more and more over the past couple years. The idea that anyone young or old, past or present, being bullied based on Apu really makes me sad. It certainly was not my intention. I wanted to bring joy and laughter to people."
It's a much more measured and sensitive response than the one he offered TMZ a few years ago. And it's far better than the toothless way that The Simpsons addressed the issue in a recent episode that featured Lisa Simpson chiding audiences about political correctness. Even Azaria was not a fan of the way the Fox series handled it, adding, "I had nothing to do with the writing or the voicing [in that episode]. I think if anyone came away from that segment thinking they need to lighten up...that's definitely not the message that I want to send."
It seems like Azaria has done some soul-searching surrounding the character, which is a relief considering the frustrating back-and-forth going on at The Simpsons. Following the backlash to the episode, The Simpsons showrunner Al Jean vowed to "find the right answer" to Apu's portrayal as a backwards Indian stereotype. But will that be enough?
Azaria offered his solution: He can stop voicing the role and hopefully encourage The Simpsons writer's room to actually hire Indian and South Asian writers:
"I've given this a lot of thought, and as I say my eyes have been opened. I think the most important thing is to listen to Indian people and their experience with it. I really want to see Indian, South Asian writers in the writers room...including how [Apu] is voiced or not voiced. I'm perfectly willing to step aside. It just feels like the right thing to do to me."
More people of color behind and in front of the camera is always the best option. Perhaps The Simpsons or Azaria could benefit from looking into the inclusion riders that Frances McDormand helped bring into the conversation lately.