'211' Trailer: Police Officer Nicolas Cage Is Outgunned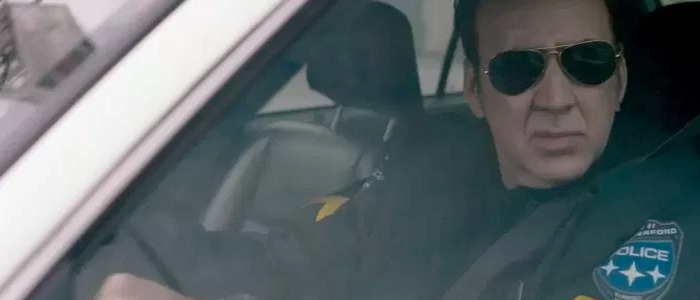 Police officer Nicolas Cage gets himself in a heap of trouble in the 211 trailer. The film finds Cage in the middle of "one of the longest and bloodiest bank heists in history."
A Nic Cage heist movie is nothing to sneeze at, but this 211 trailer doesn't exactly inspire confidence. At times it looks like two different films: one is about grumbling, retiring cop Nicolas Cage, and one is about a team of heavily-armed bank robbers ready to join the cast of Den of Thieves. Watch the 211 trailer below and see for yourself.
211 Trailer
Here are some things that happen in this trailer:
Nicolas Cage hates cellphones.
Nicolas Cage hates cameras.
Nicolas Cage is happy to be retiring.
The bank robbers all look very scary.
Nicolas Cage crashes his cop car.
Lots and lots of gunfire.
Nicolas Cage yells "WHAT TOOK YOU SO LONG?" and points his finger.
Stuff blows up.
211 is inspired by true events, and finds Cage playing a cop who just happens to be driving around a civilian passenger when all hell breaks loose during a bank robbery. Many shoot outs, explosions, and scenes of Cage yelling follow. I love Nicolas Cage, even when he's going off the rails, but I'm not so sure about this one. The production values look a little uninspired, but I'm confident that no matter what, Cage brings his A-game. He always does – even when he's screaming like a mad man and acting unhinged. This is yet another recent film from Cage, who has been keeping busy. This year alone he's appeared in Mom and Dad and Looking Glass. He also has Mandy, Primal, Between Worlds, and Teen Titans Go! To the Movies due out before the year ends.211 is written and directed by a fellow with the pretty cool name of York Shackleton. And here's a fun fact: Shackleton used to be a professional snowboarder. How many other filmmakers can claim that? Stanley Kubrick and David Lean weren't out there snowboarding, I can tell you that much.
The film also features Cory Hardrict, Michael Rainey Jr., Ori Pfeffer, Weston Cage, Sophie Skelton and Alexandra Dinu.
211 arrives in select theaters and will be available on Demand and Digital HD June 8, 2018.
Inspired by one of the longest and bloodiest real-life events in police history. Officer Mike Chandler (Nicolas Cage) and a young civilian passenger find themselves under-prepared and outgunned when fate puts them squarely in the crosshairs of a daring bank heist in progress by a fearless team of highly trained and heavily armed men.