'Incredibles 2' Box Office Tracking Predicts Pixar's Biggest Opening Weekend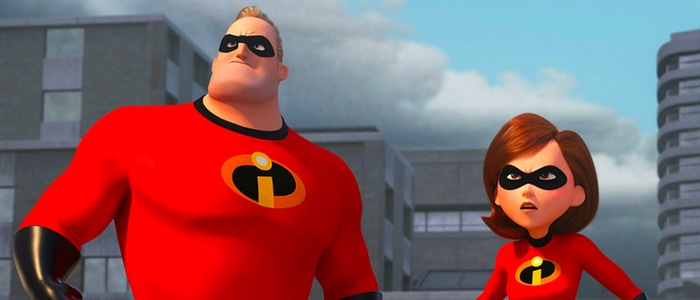 Update: The Hollywood Reporter says the new Pixar sequel is now tracking for a $140 million opening weekend, which would make it the highest opening yet for a Pixar movie. Our original article follows.
Audiences have been waiting for Incredibles 2 for over a decade. And perhaps it was worth the wait, at least from a financial standpoint. Early Incredibles 2 box office tracking suggests the film might result in one of Pixar's biggest opening weekends.
Are you excited for Incredibles 2? Planning to see it opening weekend? If so, you might be about to help Pixar make history. Box Office Pro indicates that early Incredibles 2 box office tracking is pointing towards one of Pixar's biggest opening weekends. As of now, projections hint at a $110 million domestic opening. This would outshine the original film's $70 million opening.
If these projections are right, it will be close to Pixar's current second-best opening, Toy Story 3. Pixar's best opening weekend haul to date is Finding Dory, with $135 million. You're probably noticing a pattern here: sequels are what sell best for Pixar. Which explains why they keep making them. Of course, original titles like Coco have also done very well. Pixar will (almost) always draw a crowd. The "worst" Pixar opening so far seems to be The Good Dinosaur, which took in $39,155,217 opening weekend. Here's a breakdown of the top five Pixar opening weekends (via Box Office Mojo).
Top 5 Pixar Opening Weekends
1. Finding Dory – $135,060,273
2. Toy Story 3 – $110,307,189
3. Inside Out – $90,440,272
4. Finding Nemo – $70,251,710
5. Up – $68,108,790
Of all of Pixar's recent films, Incredibles 2 feels different, simply because of how long we've all waited for it. The first Incredibles hit theaters in 2004, which feels like a very, very, very long time ago. Fans have clamored for a sequel to Brad Bird's superhero family film ever since, but Incredibles 2 remained elusive. Now, at long last, the sequel is set to arrive in theaters this summer.
There's still a good deal we don't know about the film (although /Film has some extensive coverage from a trip to Pixar), but trailers have done a very good job selling it as the sequel we've all been waiting for.
Incredibles 2 opens on June 15, 2018.
Everyone's favorite family of superheroes is back in "Incredibles 2" – but this time Helen (voice of Holly Hunter) is in the spotlight, leaving Bob (voice of Craig T. Nelson) at home with Violet (voice of Sarah Vowell) and Dash (voice of Huck Milner) to navigate the day-to-day heroics of "normal" life/ It's a tough transition for every one, made tougher by the fact that the family is still unaware of baby Jack-Jack's emerging superpowers. When a new villain hatches a brilliant and dangerous plot, the family and Frozone (voice of Samuel L. Jackson) must find a way to work together again – which is easier said than done, even when they're all Incredible.