'The Tale' Trailer: Laura Dern Stars In A Powerful Memoir Of Abuse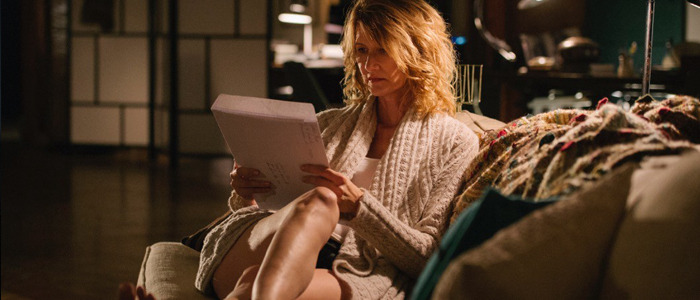 One of the most powerful movies of this year's Sundance Film Festival is coming to HBO next month, and now its first trailer has arrived. The Tale is the autobiographical story of director Jennifer Fox (played here by the always-terrific Laura Dern), a documentary filmmaker who dives into her own past and uncovers the truth about the sexual abuse she suffered when she was a teenager. It's tough subject matter, but the deafening buzz about the film at Sundance and our own glowing 10 out of 10 review indicate that this is definitely going to be worth checking out. Watch The Tale trailer below.
The Tale Trailer
A harrowing story of repressed trauma, The Tale admittedly looks like it'll be a hard watch. But a powerhouse performance from Dern and the fact that the movie is arriving amid the #MeToo movement gives it the feeling of a vital, timely story that needs to be seen. It's the work of a woman grappling with her own past the only way she knows how, and while it touches on topics that are undeniably horrible, hopefully it will be able to offer an incisive perspective to the rest of us.
/Film's Ethan Anderton reviewed the film at Sundance, and explained how Jennifer Fox's background as a documentary filmmaker found its way into her first scripted feature:
As Fox digs into her past, there are sequences where she communicates with both her memories and the people in them as if they were right next to her in the car or sitting down for some kind of documentary interview. These are the barricades she has built to keep her from reliving this trauma, opting for the happy memory that doesn't turn her into a helpless victim. It's a compelling and clever narrative device employed to illustrate how much Fox is struggling with unfurling her sexual abuse.
IndieWire also had high praise for the movie:
An immense, brave, and genuinely earth-shaking self-portrait that explores sexual assault with a degree of nuance and humility often missing from the current discourse, "The Tale" is undeniably primed for the #MeToo movement, but it's also so much bigger than that. While the film triple underlines the vile nature of these crimes and the vital importance of our growing solidarity against them, to fully conflate Fox's achievement with a political movement (even such a necessary one) could only diminish the personal scope of its power. "The Tale" is a film about women, but it's also a film about one woman in particular, a woman who tells herself two very different stories in order to trace the path between them and learn who she is, and how she got here.
Here's the film's official synopsis:
Jennifer (Laura Dern), a journalist, is compelled to examine her past and a sexual relationship she had when she was thirteen after her mother uncovers one of her childhood stories. The Tale premieres May 26 on HBO.
The Tale will be available on HBO starting on May 26, 2018.