'Woman Walks Ahead' Trailer: Jessica Chastain Heads Out West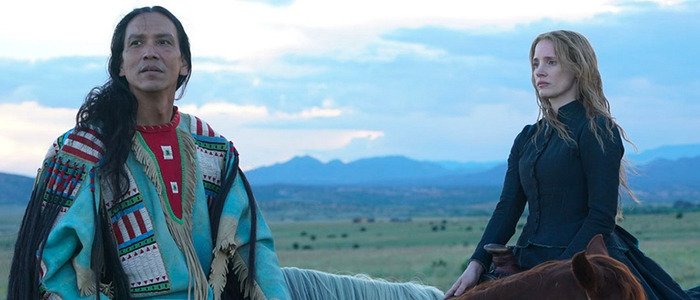 Jessica Chastain is joining the evergrowing A24 family with Woman Walks Ahead, a Western drama that finds the actress playing a widow who sets out West to meet Sioux Chief Sitting Bull. Watch the Woman Walks Ahead trailer below.
Jessica Chastain + A24 = something I definitely want to see. Throw in some Sam Rockwell and you probably can't go wrong. The Woman Walks Ahead trailer below offers our first real look at the new biographical film from Our Kind of Traitor director Susanna White.
Woman Walks Ahead Trailer
This looks visually stunning, and I particularly like how the trailer instantly establishes that Sam Rockwell's character to be a complete creep by having him randomly approach Chastain's character on a train and start mansplaining to her. Woman Walks Ahead is based on the true story of Caroline Weldon, a 19th-century artist and activist with the National Indian Defense Association who became a confidant of Sitting Bull.
Woman Walks Ahead played at last year's Toronto International Film Festival, but I have to admit it didn't seem to garner much buzz there. I missed the film at the festival myself, and I can't recall any of my fellow critics having much to say about it. The film is currently sitting at 53% on Rotten Tomatoes. IndieWire's negative review calls it "A listless but lustrously shot biopic," while The Village Voice's positive review says, "Steven Knight's script veers dangerously close to white-savior territory, but the complexity of the native characters is commendable, and the performances are first-rate." RogerEbert.com says, "Woman Walks Ahead remains stagnant as a politically correct but enervating historical drama." And The Playlist adds, "Well-crafted, ably told and manages to connect with its earnest good intentions and desire to please."
Overall, these reactions seem mixed at best. Still, Chastain is one of the very best actresses working today – seriously, she's good in everything – and A24, who purchased the film after TIFF, have a pretty damn good track record, so I'll definitely be giving this a chance. In addition to Chastain and Rockwell, Woman Walks Ahead has an impressive cast of character actors, including Michael Greyeyes, Ciarán Hinds and Bill Camp, as well as Michael Nouri and Chaske Spencer.
You can watch Woman Walks Ahead exclusively on DIRECTV CINEMA May 31 and in theaters on June 29, 2018.
A headstrong New York widow embarks on a dangerous journey to meet Sioux Chief Sitting Bull. She soon finds herself in a face-off with an Army officer who wants to wage war on the Native Americans.