'Avengers: Infinity War' Early Buzz: Super Entertaining, But Not Without Its Flaws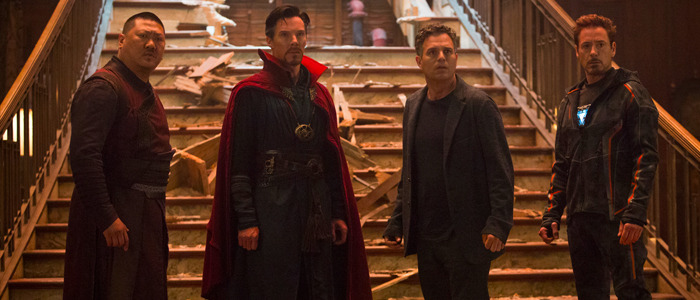 It's all been building to this. Tonight in Hollywood, Marvel Studios hosted the world premiere of Avengers: Infinity War, the biggest film of the Marvel Cinematic Universe thus far. The full review embargo lifts tomorrow, but in the meantime, let's take a look at what the critics who attended the premiere thought about the film that pits Earth's Mightiest Heroes against the MCU's biggest Big Bad, Thanos (Josh Brolin). Read on for the first round of Avengers Infinity War early buzz.
It's been ten years of build-up, and six years since Thanos first appeared in the post-credits scene of 2012's The Avengers. Now the superhero team is facing their greatest challenge yet head on, and it sounds like directors Joe and Anthony Russo managed to craft a massively scaled blockbuster that feels appropriately epic – but it's not without its share of problems.
Avengers Infinity War Early Buzz
Overall, these first reactions seem way more mixed than I thought they'd be. There's a handful of praise, but way more measured responses than anticipated. It sounds like there are some jaw-dropping moments, but also a few hang-ups as well. Here are the spoiler-free reactions from those lucky enough to attend the world premiere or see an early screening:
#InfinityWar is everything you want, nothing you expect. It's funny, surprising, dark, filled with delightful interplay between characters never seen on screen before. I know many filmmakers say they are trying to make a sequel in the vein of Empire Strikes Back, this succeeds.

— /Film (@slashfilm) April 24, 2018
MVPs: Thanos!!! Thor, most of the Guardians, Peter Parker, best ending of any Marvel movie, possibly the best end credits scene of any marvel movie. Cons: Cg villains other than Thanos, teenage Groot, not enough black panther leads.

— /Film (@slashfilm) April 24, 2018
#AvengersInfinityWar: #Marvel puts it all on the table and wipes it off. Stress-inducing, full of dread, darker than usual, yet, funny as hell and super entertaining. Terrifying Thanos razes the ground without mercy. Blockbuster noise? Yes, but with emotional stakes attached. pic.twitter.com/3zWP5LtCCk

— The Playlist (@ThePlaylistNews) April 24, 2018
AVENGERS: INFINITY WAR: A movie version of a massive comic-book crossover, for better (fun character interactions) and worse (it's pretty much all Infinity Stone shenanigans). YMMV. #avengersinfinitywar

— Matt Singer (@mattsinger) April 24, 2018
Jaw on ground. You are not ready for 'Avengers: Infinity War'. All you have to know is AVOID ALL SPOILERS! Seriously. Go in knowing as little as possible. The @Russo_Brothers did the impossible. Wow. pic.twitter.com/noKZ5cQWdc

— Steven Weintraub (@colliderfrosty) April 24, 2018
Holy Hell. Avengers: Infinity War is the real deal. Was left breathless sitting in the theater. Real consequences, stunning moments, awesome character interaction, and some BIG and often devastating surprises. Oh, and Thanos is terrifying and amazing. Damn. pic.twitter.com/WWhsT12GTa

— Eric Eisenberg (@eeisenberg) April 24, 2018
AVENGERS: INFINITY WAR is very weighty and juggles most of its characters with consideration. It's the closest thing to a Paul Thomas Anderson movie you'll find in the Marvel Cinematic Universe. I Am Shook! #Marvel #AvengersInfinityWar pic.twitter.com/YgntkXFIkv

— Rudie Obias (@RudieObias) April 24, 2018
AVENGERS: INFINITY WAR has like ten legit "chill down the spine" great moments. But it's for sure the first half of a two part movie and I left a little unsatisfied/frustrated, maybe by design ... at least that's how I feel right now three hours later.

— Mike Ryan (@mikeryan) April 24, 2018
#AvengersInfinityWar: Despite some truly thrilling moments, feels like less than the sum of its parts. A definite step down after that epic run of GotGV2 / Spidey / Thor 3 / Black Panther, but what else did I expect?

— Angie J. Han (@ajhan) April 24, 2018
But personally, if I'd seen #InfinityWar for the first time at a normal screening in a normal theater, I would have walked out afterward, bought another ticket, and walked right back in for a second viewing. That's how much I was into it.

— Tasha Robinson (@TashaRobinson) April 24, 2018
#AvengersInfinityWar: Imagine taking a giant bowl and filling it with every flavor of ice cream and every topping.

— Jordan Zakarin (@jordanzakarin) April 24, 2018
There is a lot of mind-blowing stuff in #AvengersInfinityWar, emotional, funny and lives up to the hype

— Aaron Couch (@AaronCouch) April 24, 2018
#InfinityWar may be the most expensive Hollywood movie ever designed to mess with its audience. People sure are going to sit through a lot of credits!

— erickohn (@erickohn) April 24, 2018
Avengers Infinity War is a lot. Some great performances. Best when it is funny which is often.

— Gregory Ellwood – The Playlist 🎬 (@TheGregoryE) April 24, 2018
INFINITY WAR is exhausting. *Exhausting.* It all just turned into noise for me after a while. But the amazing ending almost made up for the rest of it. And Thanos is a good, sad villain.

— Bilge Ebiri (@BilgeEbiri) April 24, 2018
i'm actually still up for the INFINITY WAR social embargo!

I mostly felt the same way I did about CIVIL WAR. til the last act which is admirably nuts. it's weightless in that giant crossover way, but then it really goes for it. some stuff made me GRUMPY. I dunno. what a world!

— David Sims (@davidlsims) April 24, 2018
Avengers: Infinity War stars Robert Downey Jr., Chris Hemsworth, Mark Ruffalo, Chris Evans, Scarlett Johansson, Benedict Cumberbatch, Don Cheadle, Tom Holland, Chadwick Boseman, Paul Bettany, Elizabeth Olsen, Anthony Mackie, Sebastian Stan, Danai Gurira, Letitia Wright, Chris Pratt, Dave Bautista, Zoe Saldana, Pom Klementieff, Karen Gillan, Benedict Wong, Peter Dinklage, Chris Pratt, Carrie Coon, and Josh Brolin.
Iron Man, Thor, the Hulk and the rest of the Avengers unite to battle their most powerful enemy yet — the evil Thanos. On a mission to collect all six Infinity Stones, Thanos plans to use the artifacts to inflict his twisted will on reality. The fate of the planet and existence itself has never been more uncertain as everything the Avengers have fought for has led up to this moment.
Avengers: Infinity War arrives in theaters on April 27, 2018.