'Venom' Trailer: Hey, They Actually Showed The Costume This Time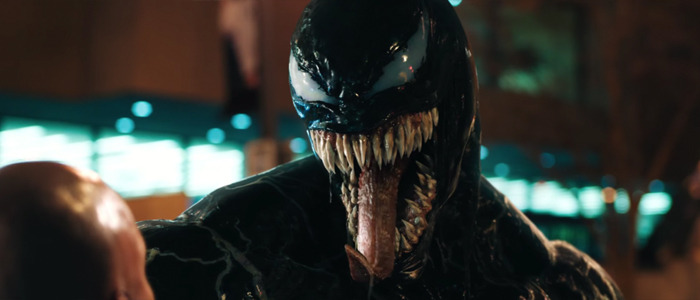 Sony has unveiled a brand new Venom trailer, and instead of cutting around it, the studio has finally decided to showcase the suit of its title hero. The teaser trailer was notable only in the way it purposefully avoided giving fans what they wanted – a look at star Tom Hardy in the suit – but it seems as if Sony has decided it's time to pull back the curtain. Take a look at the newest Venom trailer below.
Venom Trailer
After watching the first trailer, I was left scratching my head as to why Tom Hardy would be interested in starring in this movie. But at least this trailer gives a much clearer indication of why the actor would be drawn to this role: it looks like a meaty opportunity for him to dig into a twisted, conflicted character. It's his version of Andy Serkis's Gollum – only with the ability to do some sick mid-air motocross tricks.
Ruben Fleischer is behind the camera directing this film. He made a big splash with Zombieland back in 2009, but his two subsequent features – 2011's heist comedy 30 Minutes or Less and 2013's period thriller Gangster Squad – were huge disappointments that didn't live up to the potential of his debut. Will Venom be the movie that turns things around for him?
Time will tell, but at the very least, we know the cast here is full of phenomenal performers. Hardy leads the pack as Eddie Brock/Venom, and he's joined by Michelle Williams (Manchester by the Sea), Riz Ahmed (Rogue One: A Star Wars Story, The Night Of), Jenny Slate (Parks and Recreation), and there's a rumor Woody Harrelson is playing Carnage.
There's also a rumor going around that Tom Holland will appear in this film, either as Peter Parker or Spider-Man, but that would be very complicated for the studio to pull off. Remember: this movie does not take place within the Marvel Cinematic Universe because it's not being produced by Marvel Studios. This is a Sony Pictures production, and since they still retain the rights to characters like Venom, Silver Sable, and Black Cat, they're moving forward with their own cinematic universe of heroes that originated in the pages of Spidey comics. Call it the Sony Marvel Universe, or SMU, if you like. (Or don't. Maybe Sony will abandon this plan altogether!)
There's another plus for Venom, too. The music should be great, because Fleischer wisely hired Black Panther composer Ludwig Goransson to compose the score. Goransson not only worked some magic for Black Panther, but he's worked on shows like Community and Happy Endings and has been a longtime collaborator of Childish Gambino.
Embrace your inner anti-hero. #Venom 10.5.18 pic.twitter.com/f9m3zwbO4o

— Sony Pictures (@SonyPictures) April 24, 2018
Here's the movie's official synopsis:
One of Marvel's most enigmatic, complex and badass characters comes to the big screen, starring Academy Award® nominated actor Tom Hardy as the lethal protector Venom.
Venom arrives in theaters on October 5, 2018.