'The Fast And The Furious' Animated Series Is Coming To Netflix, Will Follow The Adventures Of Dom Toretto's Cousin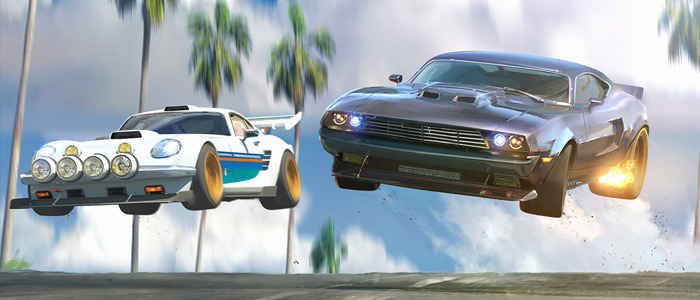 The high-octane world of street racing and outrageous car-based heists is coming to the small screen in a new The Fast and The Furious animated series from DreamWorks Animation. The series is being developed for Netflix, and has franchise star Vin Diesel on board to executive produce. And since this is Fast & Furious we're talking about, you know this show has to be about #family. But it won't explicitly be about the adventures of Diesel's Dominic Toretto – instead it'll follow his younger cousin, Tony Toretto.
Today, Netflix and DreamWorks Animation announced that new Fast & Furious animated series is in the works. The new series already has a Netflix show page, but right now it's just called The Fast and The Furious Animated Show, which I assume is just a placeholder title until they come up with something better. Here's the official description:
Teenager Tony Toretto follows in the footsteps of his cousin Dom when he and his friends are recruited by a government agency to infiltrate an elite racing league serving as a front for a nefarious crime organization bent on world domination.
Sounds like we have a James Bond Jr. type of situation on our hands here. For those who didn't watch that series in the early '90s, it followed the adventures of James Bond's nephew as he and his pals – the young relatives of other major Bond franchise characters like Felix Leiter and Q – fight crime and attempt to stop evildoers from taking over the world. I imagine that because Diesel is involved as an executive producer, it'd be easy for him to slip into a voice booth and record a few lines of dialogue for Dom to make a quick appearance here and there, but it sounds like it'll primarily be a whole new series of adventures with a new cast of characters.
Fast & Furious movie producers Vin Diesel, Neal Moritz, and Chris Morgan (who also wrote a majority of the movies) will executive produce this series alongside showrunners Tim Hedrick (DreamWorks Voltron Legendary Defender) and Bret Haaland (All Hail King Julien).
As a long-time fan of this film franchise, I don't think I'll be watching this show. But from a business perspective, it's a no-brainer. Think of the toys they'll be able to sell!
Netflix now has a first look option for DreamWorks Animation projects based on Universal movie properties, so I expect to see more of these kinds of announcements in the future. It'd be easy to look at this as a shameless cash grab, but I'll try to be optimistic and think of The Fast and The Furious animated series as a potentially fun gateway for younger audiences who haven't encountered the movies yet. After all, it's never too early to introduce the importance of the Fast #family.