You Probably Shouldn't Watch This 'Avengers: Infinity War' TV Spot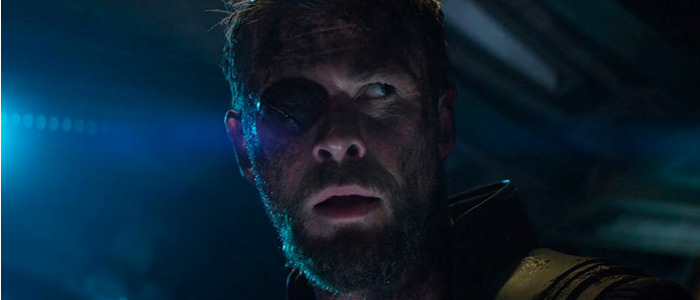 Oh boy, we were doing so well avoiding Avengers: Infinity War spoilers, and then here comes this new Infinity War TV spot. While the spot below is still somewhat vague, there's also more potential for spoilers here than in any previous TV spot. In other words, if you want to remain as spoiler-free as possible, do not watch the Infinity War TV spot below.
Still with me? Wow, you're a brave soul. Look at you – daring to venture below the jump and take in potential Avengers: Infinity War spoilers. They'll write ballads in your honor, you searcher for truth! Here's the Infinity War TV spot. It's too late to turn back now. You have to watch it. Sorry. I warned you.
Infinity War TV Spot
Right off the bat, the title of this TV spot is "Thor loses Loki." Let's get this out of the way: that doesn't actually happen in this spot, and whomever wrote that is being a bit of a jerk. The closest indication we have of anything like that is a quick moment where Thor says, "How much more can I lose?"
He could be talking about anything here. After all, his homeworld of Asgard was just destroyed in Thor: Ragnarok. Still, the lack of Loki in the marketing for Infinity War does seem to indicate he's going to bite it at some point during the film. And it's been heavily suggested that Thanos is going to wipe out most (if not all) of the Asgardians who survived Thor: Ragnarok. Or maybe Thor just misplaced his car keys somewhere, and he's feeling particularly glum about it. I don't know.
Beyond that, this TV spot also shows us the moment when Benedict Cumberbatch's Doctor Strange approaches Robert Downey Jr.'s Tony Stark and asks for his help. And then we have the standard quick, action-based shots showing off all the mayhem that awaits us.
It's hard to believe we've come this far and that Avengers: Infinity War will be hitting theaters this week. But here we are, on the cusp of the biggest Marvel film to date. Small details of this TV spot aside, Marvel really has done a good job keeping most plot details of Infinity War a secret. Will that change soon? The film's big Hollywood premiere is tonight, and I'd imagine at least one person is going to let something slip. Infinity War directors the Russo Brothers are aware of this as well, which is why they sent out the following tweet, in which they advise fans to avoid social media completely until they have a chance to see the film for themselves.
Easier said than done, Russos.
Avengers: Infinity War smashes into theaters April 27, 2018.