'Sharp Objects' Trailer: It's Not Safe For You Here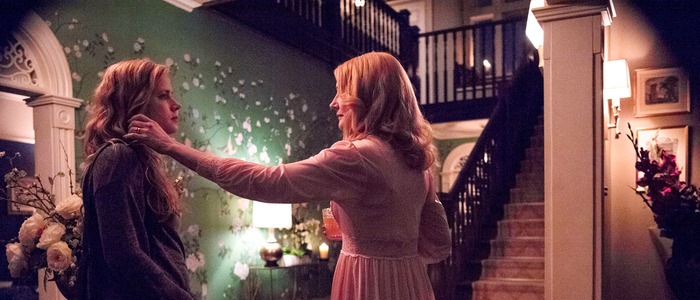 Amy Adams is coming for that Emmy Award, so watch out. The first Sharp Objects trailer is here, featuring Adams in an adaptation of a novel from Gone Girl author Gillian Flynn.
Ready for some beautiful unpleasantness? If so, the Sharp Objects trailer is for you! This new HBO adaptation looks both stunning and disturbing, and really, what more do you need?
Sharp Objects Trailer
Sharp Objects is adapted from the novel of the same name by Gillian Flynn (Gone Girl), and it looks to be just as unnerving as that story. Perhaps more so. Adams plays "reporter Camille Preaker, who returns to her small hometown to cover the murders of two preteen girls. Trying to put together a psychological puzzle from her past, she finds herself identifying with the young victims a bit too closely." Here's the book's synopsis:
Fresh from a brief stay at a psych hospital, reporter Camille Preaker faces a troubling assignment: she must return to her tiny hometown to cover the murders of two preteen girls. For years, Camille has hardly spoken to her neurotic, hypochondriac mother or to the half-sister she barely knows: a beautiful thirteen-year-old with an eerie grip on the town. Now, installed in her old bedroom in her family's Victorian mansion, Camille finds herself identifying with the young victims—a bit too strongly. Dogged by her own demons, she must unravel the psychological puzzle of her own past if she wants to get the story—and survive this homecoming.
The cast includes Patricia Clarkson, Chris Messina, Eliza Scanlen, Elizabeth Perkins, Matt Craven, Henry Czerny, Taylor John Smith, Madison Davenport, and It star Sophia Lillis, playing Adams' character when she was younger (that's pretty good casting).  The adaptation was developed for HBO by Marti Noxon (UnREAL) and directed by Big Little Lies helmer Jean-Marc Vallée.
I'm very excited for this. Adams is a great actress, and I'm very curious to see her take on a much darker role. Adding Patricia Clarkson into the mix is a plus as well. Much like Big Little Lies, Sharp Objects has been turned into a limited eight-episode drama. The question is: will audiences take to Objects as well as they did to Lies? While Lies had plenty of dark subject matter, there was a cheeky, comical side to the show that doesn't look to be present in Sharp Objects at all. One has to wonder if this adaptation might end up being too bleak for general audiences.
This is the third Gillian Flynn book to be adapted to the screen. Previously, Flynn's Gone Girl was turned into an excellent film by David Fincher, while her Dark Places was adapted into a rather terrible film by Gilles Paquet-Brenner. Let's hope Sharp Objects ends up closer to Gone Girl than Dark Places. Flynn also wrote the script for the upcoming Steve McQueen crime drama Widows.
Sharp Objects hits HBO in July.