'Nova' Movie Has "Immediate Potential" At Marvel, Kevin Feige Says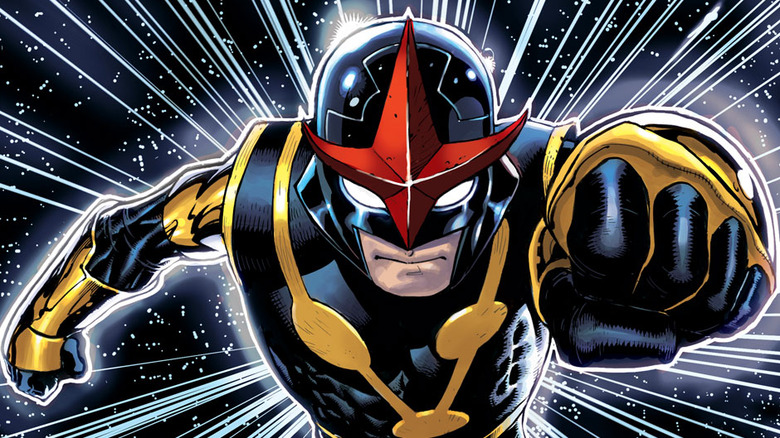 While the next phase of the Marvel Cinematic Universe is still veiled in mystery, Marvel Studios President Kevin Feige hints that one of the most beloved heroes of the Marvel cosmic universe could potentially get his own solo movie. That's right, a Nova movie could be next, guys.
Guardians of the Galaxy — and now, Thor: Ragnarok — have had the cosmic part of the MCU covered for the past few years. But as Marvel reaches the climax of its first three phases with the upcoming Avengers: Infinity War, it may be time to start looking to space for the next big Marvel superhero.
Nova is a space-bound superhero whose fans have been clamoring for a solo movie for years. His presence was hinted at in Guardians of the Galaxy, which heavily featured the intergalactic police force known as the Nova Corps. But Nova — the moniker for the characters Richard Rider and the more recent Sam Alexander (son of another Nova) — has not yet made his feature film debut.
That could change, according to Feige. The Marvel Studios president spoke about the possibility of a Nova movie in an interview with ComicBook.com:
"Nova is... if we have a big board with a bunch of characters that have more immediate potential, Nova is on that board. Because of the connection to the Guardians universe, because there are more than one examples to pull from in the comics that are interesting. And you're absolutely right, he was in the earliest drafts of the [Guardians of the Galaxy]."
It's all but confirmed that Marvel will be going cosmic for its mysterious "Phase 4." Nova seems like the perfect first step for that: a law-abiding hero who has his roots in a team that we've already met onscreen. And a Nova movie provides the perfect gateway for even more superhero teams — Nova is a proud member of The New Warriors, the Champions of Xandar, the Secret Avengers, and more. But Feige admits that nothing is set in stone yet.
"We're figuring those things out," Feige added. "It is a very unique embarrassment of riches right now because there are so many of the characters that audiences are clamoring to see more. The question is how do we show them all?"
Avengers: Infinity War hits theaters on April 27, 2018.