Watch An Exclusive 'Den Of Thieves' Alternate Ending, And Win The Film On Blu-Ray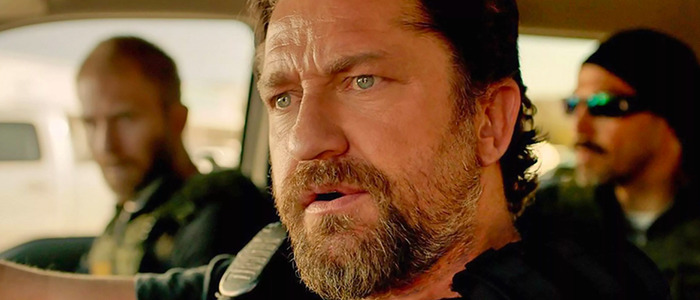 Grab your tactical vest and crime scene donuts: Den of Thieves hits home video this week. We have a chance for you to win the film on Blu-ray, if you're lucky. Plus: watch an exclusive clip revealing a Den of Thieves alternate ending below.
Den of Thieves, which is like the love-child of Michael Mann's Heat and a can of Monster Energy Drink, hits Blu-ray and DVD this week. What the film lacks in originality it makes up for in pure entertainment value. This is the type of trashy fun that's hard to get right, and it's definitely worth your time. Besides, you need to catch up on the film in time for its upcoming sequel.
First, though, watch this exclusive Den of Thieves clip that features an alternate ending for the film. This is pretty different than what ended up in the final film, and I can confidently say the theatrical ending is superior. Still, this is an interesting alternative. Spoilers follow.
Den Of Thieves Alternate Ending 
If you want to get your hands on a free Den of Thieves Blu-ray, you're in luck!
We're giving away two copies to two lucky readers, and all you have to do is jump on down to the comment section and tell us your favorite Gerard Butler movie. Bonus points if you cop to liking Geostorm. U.S. residents only, please.
Den Of Thieves Blu-ray
The Den of Thieves Blu-ray arrives on April 24, 2018. Special features are listed below.
Den of Thieves is a gritty Los Angeles crime saga which follows the intersecting and often personally connected lives of an elite unit of the LA County Sheriff's Department and the state's most successful bank robbery crew as they plan a seemingly impossible heist on the Federal Reserve Bank of Downtown Los Angeles. In addition to both the action-packed theatrical version and the extended unrated version with footage not seen in theaters, Den of Thieves on Blu-ray, DVD, and Digital also features never-before seen bonus content including an alternate ending, outtakes and deleted scenes, and insightful commentary from the filmmakers.
Alternate Ending
Alpha Males – The cast describes how the tough characters in the film blur the lines between the good guys and the bad guys.
Into the Den – Director Christian Gudegast and the cast describe the two brotherhoods within the film, the renegades and the outlaws, and their unique sets of skills.
Alameda Corridor – The cast and director discuss filming the intense scene that take place on the streets of L.A. and the extensive weapons training it took to film it.
Outtakes and Deleted Scenes
Commentary with Director Christian Gudegast and Producer Tucker Tooley
Den of Thieves Theatrical Cut