'Jurassic World: Fallen Kingdom' Originally Went Further Into The 'Jurassic World 3' Story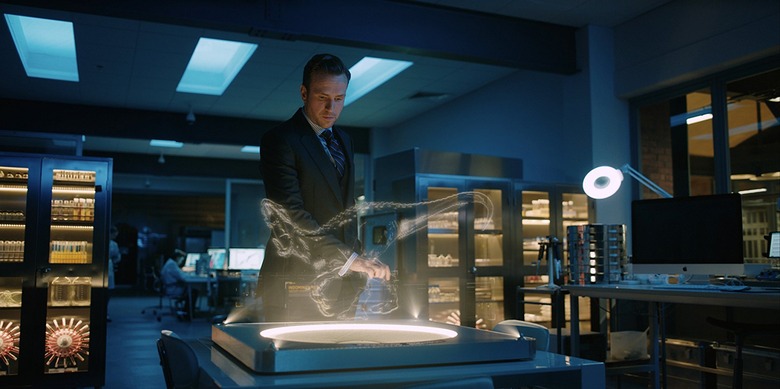 When Colin Trevorrow first signed on to direct Jurassic World, he mapped out the plot of an entire trilogy. Even as he stepped away from Jurassic World: Fallen Kingdom, with J.A. Bayona stepping into the director's chair, Trevorrow still had a hand in crafting where the new Jurassic trilogy would go. And it turns out the director had so many ideas for the films that he nearly let it all get packed into the Jurassic World Fallen Kingdom story.
The full extent of Jurassic World: Fallen Kingdom's story remains a mystery. But we may have a clue for what the film entails based on Trevorrow's initial pitch for the Jurassic World sequel.
Sandwiched between Jurassic World — which brought back the Jurassic Park series to cinemas — and Jurassic World 3, Fallen Kingdom has the unenviable task of following up a box office titan and bridging the start and conclusion of a trilogy. So it's no wonder that Trevorrow, in his initial pitch for Jurassic World: Fallen Kingdom, got a little overeager.
In /Film's interview with Jurassic World producers Frank Marshall and Patrick Crowley, we learned that Jurassic World: Fallen Kingdom nearly had two movies worth of story:
[When Trevorrow] came in, I think he's been thinking about this since Jurassic World where we're gonna go in 2 and 3. So it was just a question of how far we were gonna go in 2. So he kind of had it all sketched out. And basically from what I remember he brought a treatment in. I mean, I don't think we sat down and talked to him about it.
"Boy, it was interesting," Crowley added. "Because without revealing too much of it, he wanted to go much further in the second one. And we all sort of looked at it and said, I don't think everybody's ready for that. Pull it back a little. It was just in terms of the length of the time of the storytelling. He had started here and went all the way to there."
Marshall and Crowley are incredibly vague about what Jurassic World 3 plot points Trevorrow initially included in his Jurassic World: Fallen Kingdom script treatment, but it sounds like the sequel will handily set up the plot for the still-untitled third Jurassic World film. Marshall and Crowley wisely reined him back, getting Jurassic World: Fallen Kingdom to focus on the characters played by Chris Pratt and Bryce Dallas Howard:
Well we really felt we needed to spend time to get to know Chris and Bryce again. Where they'd been in three years. Because as you'll see, there's a big change in her. She's realized that she made a mistake and that it was responsibility, not her fault, but she was part of what happened. So she's now trying to make up for it. Trying to do better and Chris is pretty much still a loner on his own. Not wanting to deal with anything. So we had to set that up.
This makes complete sense, since we barely got to know Owen Grady (Pratt) and Claire Dearing (Howard) in the first Jurassic World. This way, we get acquainted with the human characters of Jurassic World, while maybe getting a little set-up for the third film. Jurassic Park films are best when they stand as solid films on their own.
Jurassic World: Fallen Kingdom hits theaters on June 22, 2018.