Amazon Developing 'Transhuman' And 'East Of West' TV Shows Based On Jonathan Hickman's Comics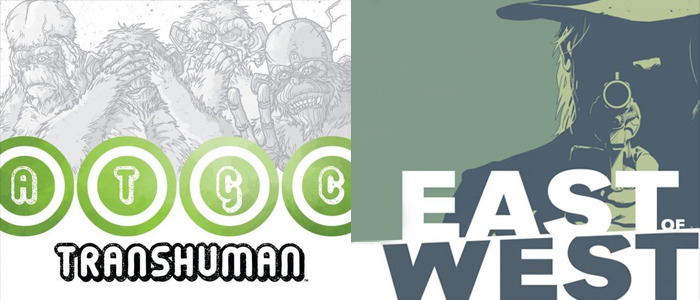 Amazon is continuing its streak of devoting serious resources to produce highly ambitious genre television shows. The company is now developing writer Jonathan Hickman's comics Transhuman and East of West into shows for its streaming service, and The Walking Dead creator Robert Kirkman will executive produce both shows for his Skybound Entertainment. Learn more about Transhuman and East of West below.
Transhuman
After dropping a frankly ludicrous sum of money for the rights to produce a Lord of the Rings series, Amazon is not putting all of its genre-tinged eggs in that Middle-earth basket. Deadline reports that they're working on bringing two more complex, dense stories to the small screen. Both hail from writer Jonathan Hickman, a comics veteran with plenty of experience working with Marvel and indie properties alike. He's known for writing complex narratives that often require re-reading to fully grasp, so this tells me Amazon is taking a big swing here.
Transhuman is a sci-fi mockumentary story set in the near future that follows "a divorced couple, who ran rival major corporations, offering humans the ability to genetically and robotically enhance themselves." The company is still looking for a writer for the TV adaptation, but Hickman will be listed as a creator and executive producer alongside comic artist J.M. Ringuet.
East of West
East of West is one of Hickman's most popular comics, with world-building so dense and strange that occasionally readers will argue about what it all means. The story is "set in a reimagined Western landscape where America is divided into seven nations. This iconic science fiction series follows "Death" as he braves his fellow riders, monsters, and corrupt gunslingers in his quest to save his mortal family from the Apocalypse." Hickman himself will tackle the writing duties on this one.
/Film's Jacob Hall has read this comic, and he tells me that the science fiction world presented in East of West would be absurdly expensive to realize. It sounds like Amazon will need Game of Thrones season 7 money from the beginning for this one unless they want it to look like last year's The Dark Tower movie. (Remember that thing? Ugh.)
Again, this signals Amazon's commitment to finding the next big thing once Game of Thrones is off the air. As the streaming wars continue to heat up, it looks like Jeff Bezos is not afraid to spend untold sums in order to secure his streaming service as a must-visit destination for audiences. This bubble will burst eventually, but until it does, rival companies like Amazon, Netflix, and Apple are going to have to continue to spend more and more to out-bid the others for high-quality entertainment.