Trailer Round-Up: Clive Owen Leads 'Anon', Kelly MacDonald Solves A 'Puzzle', & More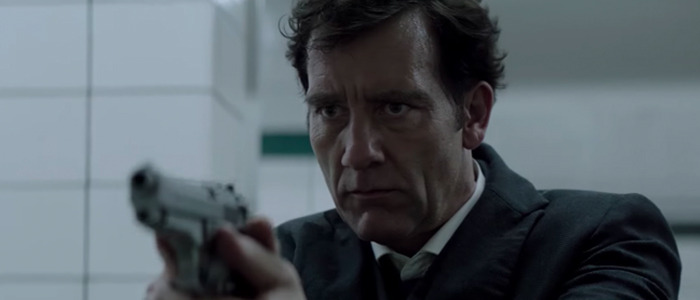 Gather around, movie fans! Come one, come all, to this collection of three new trailers all in one place. Step right up and watch trailers for Anon, Puzzle, and Director's Cut, and find out which of those is a futuristic sci-fi mystery that poses the question "Who can hack a human being?" with a deadly serious tone.
Anon Trailer
If you thought that looked like a lower-budget Inception rip-off, you'd be right. But hopefully there's a bit more going on here than this trailer indicates, because Anon is written and directed by Andrew Niccol, the guy behind sci-fi movies like Gattaca and The Truman Show. Clive Owen and Amanda Seyfried star, and this one hits Netflix on May 4, 2018.
Sal Frieland is a detective in a world with no privacy or anonymity; where everyone's lives are transparent, traceable, and recorded by the authorities; where crime almost ceases to exist. But in trying to solve a series of murders, Frieland stumbles on a young woman known only as the Girl. She has no identity, no history and is invisible to the cops. Sal realizes this may not be the end of crime, but the beginning.
Puzzle Trailer
Puzzle looks like a familiar but satisfying indie drama about a woman's identity crisis and the unconventional methods she goes to in order to get out of her rut and find value in her life. Kelly Macdonald stars, and Sony Pictures Classics will open this in theaters on July 13, 2018.
PUZZLE is a closely observed portrait of Agnes, who has reached her early 40s without ever venturing far from home, family or the tight-knit immigrant community in which she was raised by her widowed father. That begins to change in a quietly dramatic fashion when Agnes receives a jigsaw puzzle as a birthday gift and experiences the heady thrill of not only doing something she enjoys, but being very, very good at it.
Director's Cut Trailer
And let's wrap up with something completely off the wall, shall we? Here's the trailer for Director's Cut, Adam Rifkin's bonkers-looking meta narrative about a lunatic who steals the footage from a crowd-funded movie, kidnaps the lead actress, and reworks the story to make himself the hero. Oh, and it stars magician Penn Jillette.
I was already put off by the look, feel, story, and general vibe of this movie before I noticed that a movie from a company called "Dread Central Presents" used a quote from Dread Central as its first quote in its trailer. Then I noticed it quoted Slashfilm.com, too. Looking back through our archives, we've never written a review for this film – the company took our headline about a previous trailer from 2016 and put it in this trailer. OK then!
If any of this made you curious about what the hell is happening in this film, you can check it out for yourselves when Director's Cut comes to select theaters on May 10 and 11, and hits VOD and Blu-ray/DVD combo on May 29, 2018.