'Infinity War' Directors Wish They Could Have Included Wolverine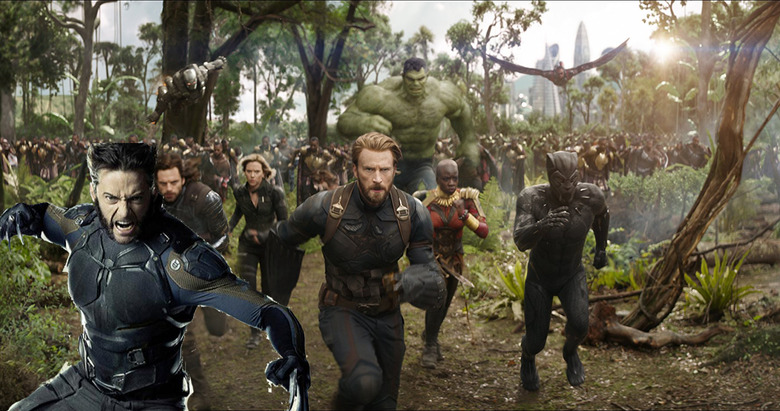 The cast of Avengers: Infinity War is already bursting at the seams. But we maybe could have forgiven one more addition to the sprawling ensemble if it promised a potential X-Men crossover into the Marvel Cinematic Universe.
Alas, that is no more than a pipe dream. Or is it? Avengers: Infinity War directors Joe and Anthony Russo entertained our superhero crossover dreams by revealing what character would be on their wishlist for an Avengers appearance: Wolverine.
An Avengers Wolverine cameo? It's not entirely impossible, especially with Disney's impending acquisition of 21st Century Fox, the studio that owns the rights to the X-Men characters. The X-Men, and especially Wolverine as played by Hugh Jackman, have been doing fine on their own, but fans have been clamoring for a crossover with The Avengers since the dawn of time. And the Russo brothers revealed that they have been thinking the same.
In an interview with Games Radar during the press tour for Avengers: Infinity War, directors Joe and Anthony Russo revealed which superhero they would have liked to include in Infinity War. Joe Russo said:
"Let's open it up to favorite Marvel characters. It would probably be Wolverine."
But that dream may be more than a hypothetical. After Joe Russo's suggestion of Wolverine, Anthony Russo added, "Yeah, maybe one day..."
Cue the barrage of mutant-Marvel crossover theories.
The historic Disney Fox deal would have industry-wide implications, but most people have honed in on the possibility that it could finally bring all the Marvel properties under one roof again. The deal might have hit a snag in March, but it's still on for the time being, which means there's a possibility that we could see the X-Men universe join with the MCU at some point in the future.
That crossover wouldn't happen anytime soon (so don't keep your eyes peeled for a certain adamantium-clawed hero in Avengers 4!) but the Russo brothers have said in a previous interview that they would be interested in adapting the famous Marvel event Secret Wars, which saw the Avengers team up with the X-Men and Fantastic Four in Battleworld, should the acquisition go smoothly.
Avengers: Infinity War stars Robert Downey Jr., Chris Hemsworth, Mark Ruffalo, Chris Evans, Scarlett Johansson, Benedict Cumberbatch, Don Cheadle, Tom Holland, Chadwick Boseman, Paul Bettany, Elizabeth Olsen, Anthony Mackie, Sebastian Stan, Danai Gurira, Letitia Wright, Dave Bautista, Zoe Saldana, Josh Brolin, Pom Klementieff, Karen Gillan, Benedict Wong, Peter Dinklage, Chris Pratt, and Carrie Coon. 
The film hits theaters on April 27, 2018.
Iron Man, Thor, the Hulk and the rest of the Avengers unite to battle their most powerful enemy yet — the evil Thanos. On a mission to collect all six Infinity Stones, Thanos plans to use the artifacts to inflict his twisted will on reality. The fate of the planet and existence itself has never been more uncertain as everything the Avengers have fought for has led up to this moment.