'Life Of The Party' Trailer: Melissa McCarthy Gets A Higher Education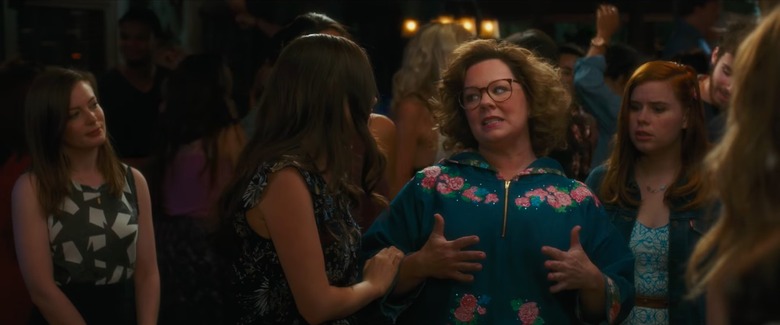 Melissa McCarthy is pursuing a higher education. And if that means getting high in the process, so be it. The actress makes her third collaboration with husband and director Ben Falcone in the Life of the Party trailer, which follows a freshly divorced mom who decides to reinvigorate her life by heading back to college.
Life of the Party Trailer
"I don't regret staying at home and being your mom," Deanna (McCarthy) explains to her daughter in the trailer. "But I regret not getting my degree."
And McCarthy is not one for playing a character with regrets, heading to college to attend alongside her daughter and a host of other kooky characters. And in a classic McCarthy movie fashion, the formerly dowdy mom with the fashion sense of a nursing home also reinvents her style, donning flowing locks and hip blouses.
With her newfound confidence and her embarrassed daughter at her side, Deanna boldly takes on co-ed life, eating weed chocolate, sleeping with a frat guy, and facing off against the resident mean girl on campus.
"I don't know what's sadder, the mom perm or the mom boobs," Debby Ryan's character jabs at Deanna during a rager, but Deanna responds, "These allowed this one to suckle at these teats for 28 months. I wear them around my waist proudly."
Life of the Party also stars Gillian Jacobs, Maya Rudolph, Julie Bowen, Matt Walsh, Molly Gordon, Stephen Root, and Jacki Weaver.
Here is the official synopsis for Life of the Party:
When her husband suddenly dumps her, longtime dedicated housewife Deanna (McCarthy) turns regret into re-set by going back to college...landing in the same class and school as her daughter, who's not entirely sold on the idea. Plunging headlong into the campus experience, the increasingly outspoken Deanna—now Dee Rock—embraces freedom, fun and frat boys on her own terms, finding her true self in a senior year no one ever expected.
Life of the Party hits theaters on May 11, 2018.