'Avengers: Infinity War' Clip Finds Shuri Schooling Bruce Banner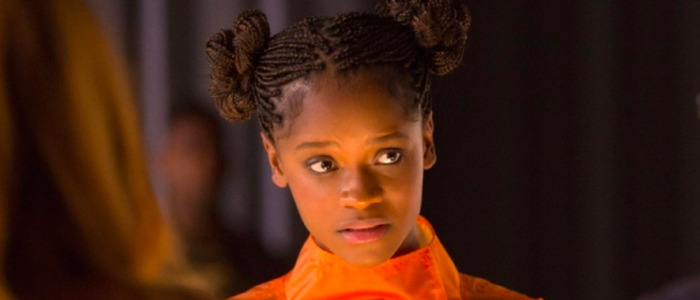 If you need a quick pick-me-up, please enjoy this brief Avengers: Infinity War clip. Here, everyone's favorite new Marvel character Shuri teaches Bruce Banner a thing or two about a thing or two.
Everybody loves Shuri! Thanks to Black Panther and Letitia Wright's winning performance, Black Panther's younger sister has become one of the most enjoyable members of the Marvel Cinematic Universe. And we'll get to see her again very, very soon. Next week, in fact, when Avengers: Infinity War hits theaters. Letitia Wright stopped by Good Morning America today and brought a quick, funny Infinity War clip that shows off some banter between Shuri and Mark Ruffalo's Bruce Banner. And by "banter" I mean the scene shows Shuri proving she's significantly smarter than Banner, because of course she is.
Infinity War Clip 
There are a lot of characters in Infinity War, so I'm curious to see just how much screentime Shuri ends up with the final film. Hopefully a significant amount, if Marvel knows what's good for them. Even if Shuri's final screentime is brief, though, I'm sure Letitia Wright will make the most of it and steal the show.
I continue to be impressed at how well Marvel has kept most of the Infinity War story under-wraps. Even this clip gives very little away. Sure, Shuri is seen here scanning Vision (Paul Bettany), but we really don't know what the context of the scene is. Infinity War is a little over a week away, and almost all of the film's spoilers have remained a secret. That's commendable – although it won't last much longer.
Avengers: Infinity War, starring Robert Downey Jr., Chris Hemsworth, Mark Ruffalo, Chris Evans, Scarlett Johansson, Benedict Cumberbatch, Don Cheadle, Tom Holland, Chadwick Boseman, Paul Bettany, Elizabeth Olsen, Anthony Mackie, Sebastian Stan, Danai Gurira, Letitia Wright, Dave Bautista, Zoe Saldana, Josh Brolin, Pom Klementieff, Karen Gillan, Benedict Wong, Peter Dinklage, Chris Pratt, Carrie Coon, and maybe, just maybe, Jeremy Renner, hits theaters on April 27, 2018.
Iron Man, Thor, the Hulk and the rest of the Avengers unite to battle their most powerful enemy yet — the evil Thanos. On a mission to collect all six Infinity Stones, Thanos plans to use the artifacts to inflict his twisted will on reality. The fate of the planet and existence itself has never been more uncertain as everything the Avengers have fought for has led up to this moment.