'I Feel Pretty' Stars Amy Schumer And Aidy Bryant On The Trailer Backlash And The Importance Of A PG-13 Rating [Interview]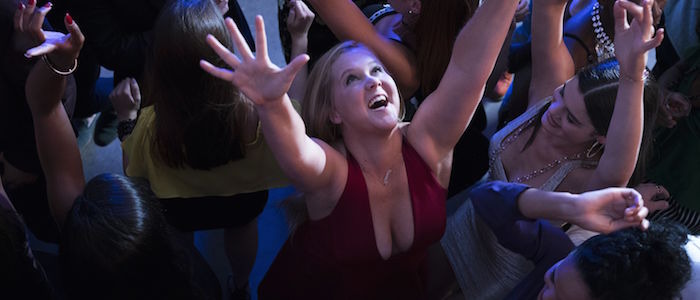 The latest vehicle starring Amy Schumer may appear on the surface to be a romantic comedy about an insecure woman who gets a blow to the head and suddenly sees herself as the most beautiful woman she's ever seen. However, the heart and soul of I Feel Pretty is the bond Schumer's Renee has with her long-time best friends Jan (Busy Phillips of Cougar Town and Vice Principals) and Vivian (SNL's Aidy Bryant, in her follow-up to last year's The Big Sick).
Marking the directing debut from popular writing team Abby Kohn and Marc Silverstein (co-writers on Never Been Kissed, He's Just Not That Into You, and How to Be Single), I Feel Pretty speaks a sometimes brutal truth about how women's self-esteems are chipped away systematically on a daily basis by the world at large. But using humor, it also delivers a message about empowering oneself and not giving a toss what the world thinks about you. On top of that, it's also a sweet love story and a tale of a woman who infiltrates a high-end makeup company and gets them to more effectively market their products to all women.
After working in decidedly more adult comedies with Trainwreck and Snatched (as well as an unexpected dramatic turn in Thank You for Your Service last year), Schumer moves into PG-13 territory with I Feel Pretty, something she saw as vital in making certain the film's message reached girls as well as women. With her SNL schedule taking up most of her year, Bryant typically only gets to make one film during her summer break, but she's decided to do something different with her coming vacation before returning to "SNL" (which she confirmed she would do) for her eighth season. An alum of Chicago's Second City improv group, Bryant has found time to make appearances on Girls, Portlandia, and the Amazon animation series Danger & Eggs.
This interview with Schumer and Bryant took place in Chicago recently, and /Film spoke with the pair about the importance of the film's PG-13 rating, the backlash to the original trailer, and the ways in which Hollywood and corporate America still find new ways to alienate women. I Feel Pretty opens nationwide on Friday, April 20.
***
I didn't realize when I sat down to watch this that it was a PG-13 movie. But it didn't take me that long to see that it made sense that you would want to aim a film with these message at a younger audience as well. You'd want teenage girls to have access to this. Did this start out R rated and you toned it down, or was this always the goal?Amy: No, no, it was always going to be PG-13, but for me, I was like, "Can I be in this? Oh yeah, it's not necessary for this to be R rated." We were definitely make a movie that we would have wanted to see at that age. But that's really funny that you didn't know going in. I wonder at what point you realized.I don't think it was a particular scene, but at some point I realized I hadn't heard a really bad word yet.Amy: Totally. That's the way it's been for a lot of people.Were there older movies that you looked at that delivered messages that you thought, "This one did it right," and maybe modeled I Feel Pretty on?Amy: That's a good question. The people who wrote it, Marc and Abby, talked about being inspired by the movie Big. There weren't any for me that helped fuel my performance, because I can't be living this [view of myself] as something that's magic. This is just my reality now. I don't know what movies this felt like to me or what I might have been inspired by.Did you make any adjustments to the screenplay once you got it? Was this written for you?Amy: I don't think it was written for me, but yes, they were really cool about being collaborative.What sorts of changes did you make?Amy: The bikini contest scene was written so that it was just me posing there in a bikini, and I changed it to that whole thing [laughs]. Basically, anything that was written at like a 3, I said, "Yeah, this is going to be an 11." There was a lot. I added in me standing in front of the mirror and taking myself in, being disappointed. I wanted that to be really alive because it was important to me that—and this was part of the backlash that came from the trailer—people knew that this wasn't a movie about an ogre becoming a princess. This is about a person who really struggles with self-esteem and feels invisible and learning where her worth is actually coming from. So it was flattering, the backlash of "You've not vile enough!" Some of the writing was like "She's not a Hollywood star, but she's not THAT bad." I was like, "Thanks, guys!"And these are attitudes that you tackled on your TV series at times.Amy: Right, like people deciding if I'm hot enough to live. But it really wasn't about that. It was about the fact that everybody has these insecurities and feels invisible. It's a really process to figure out what makes you feel good and what actually makes you you, so that you can go out and feel good about yourself. About the backlash, when people see the movie, they'll realize that's not what it's about.Some of the backlash came aimed directly at you, Addy, and you addressed it head on, quite beautifully, I think. A lot of people certainly applauded your response.Aidy: I had people also in response to what they were saying about Amy, they were also saying "How dare they have Amy be the one that goes through this when they had a plus-size woman right there who could have been the lead." I really was saddened by that because, you're right Amy, it was like "She's not ugly enough, but she might be." You know what? I'm not ugly; I'm gorgeous!Amy: Yes you are!Aidy: For them to be like, "She'll enough of a troll..." Really, what are we fighting for here?Amy: People saying that were actually a big part of the problem.Aidy: Yes, and I grew up watching movies where I never saw anyone that looked remotely like me, ever. This is my second movie ever, and I'm so cautious and thoughtful about the kind of roles I take on, because I'm sent so many things where my body is the punchline, where the entire crux of the movie is "Yes, I'll be the star of the movie, but the story is that a man would have to be tricked my magic to ever be attracted to me." Maybe I would have made more money or been a bigger star by doing some of those things, but I'm not going to do them because they break my heart, and they would have if I was still a 14-year-old girl in Arizona seeing that movie. I would have been, "Oh, I guess that's how it is." I guess that's why I felt like I did want to address it for people, because I am really thoughtful about that and I feel really conscious about it.
I look like the average American woman. Seventy percent of American woman look exactly like me. I'm the norm, so I want people to know that I'm thinking about that. The part of this movie that I love so much is that it's about how your self-confidence can only come from your brain. It can't be about the width of your thigh or your stomach or whatever; [your brain] has to be where your true value comes from. That's the only way I've survived navigating being on TV or doing a fitting or having stylists have no clothes for me. Those type of moments that are so stressful or make me feel humiliated, and in order to survive them, I have to know where my value is. I hope that people know that when I'm choosing a movie, I would take all of those things into consideration as well. I know that was a very long-winded way of saying it, but it's really important and there's a lot of stuff there, and it's really heavy for people because they're not used to seeing people with my type of body—or even Amy's type of body—on screen leading a movie.
One of my favorite criticisms of the movie, based on just the trailer, was a Psychology Today article that was a deep dive into some of the things you're talking about. But it gets it all wrong.Amy: Oh, it's all wrong. It was based only on the trailer.Aidy: I didn't see it but now I want to [laughs]. I think it's also what they expect the movie to be because that's what it's always been in every movie previously.Amy: I don't blame them; I don't vilify them. I just hope they give it a chance. They're wrong. And it's not a perfect movie but we really did our best. I think it's a move in the right direction.What do you want people thinking about when they leave the movie?Amy: I want people to feel great. There are those handful of movie that you see over the years that when you leave, you're just like "Yes!" I really want that feeling and I want it to be sustainable and have people realize it. The next time people have a moment when someone says something to them, I want them to go "No." I want them to be equipped to brush those moments off and say, "Your experience of me is not my reality." And it's not about the way I look; it's about the energy I'm carrying. You can feel that, when someone walks in a room, it doesn't matter if they're the most beautiful person you've ever seen, you can see that they wish they could just hide.You mention people saying something to you, but ne of things this movie really gets right is how people give you the most judgmental looks, without saying anything. Sasheer Zamata as the gym employee is the queen of dirty looks aimed at you.Aidy: She's literally the master. When you're perception of yourself is so low, you read those looks as about yourself in so many different ways. They might not be giving the looks your feel.Amy: Yeah, if you walk up real confident to someone, they might go "Oh, shit! Who's this?" But if walk in and you literally wish you could put an invisibility cloak over you, people are going to respond in that way.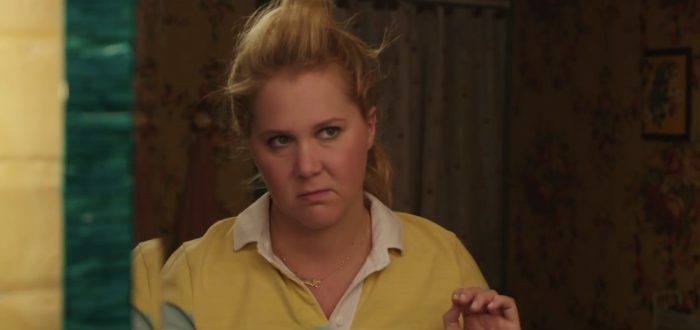 Was it more difficult for you to play the version of Renee with no confidence or the one where she's bursting with confidence?Amy: It was harder to play with no confidence, because I had to make myself real vulnerable for that, and I don't ever feel that way or let myself feel that way for long, so to live in it take after take was tough. Just the part of me looking at myself in the mirror, which was not scripted, I said "I want this. I want to just stand there in Spanx—I wanted to stand there in less, but they were like "It's PG-13, bitch."—and capture those moments you have as a woman or a man or anybody, where you just look disappointed in yourself, because that is what the world is making you feel you deserve. That was more challenging than feeling like Beyonce. It was really good for me.As much as there is this rom-com element to the film with the boyfriend character, the real love story of the film is these three friends. They actually have a dramatic arc in their story...Amy: ...more than with the boyfriend, right.Tell me about landing on Aidy and Busy and making that bond seem real.Amy: We definitely wanted it to be real friends. We wanted it to feel real, and we definitely stacked the deck a bit because we were friends before. Female friendships in movies are just so...Aidy: [Waving her arm from side to side] "No girl!" "Yas, queen!" In a way that just like, I have never spoken to a friend like that.Amy: Do you remember in the 50 Shades movies—which I love, by the way; I've seen all of them, many times—when the girls show they're friends by being like "I made you a sandwich."Aidy: "Cute purse."Amy: It's not real. I have a shorthand with my friends, and we make fun of each other. My best friends, we all just trash each other endlessly. So Aidy and I were friends, and I had appreciated Busy from afar. Her husband Marc co-wrote and -directed it, so that was kind of a no-brainer.Aidy: It was an easy vibe between all of us. I feel like there are little, improvised moments in there that are just us as actual friends.You mentioned that this is only your second movie, and I know you have limited time off from "SNL"...Amy: "On your time off, do you want to be on a set?!"What are you looking for when you're seeking that one project to do in that time off?Aidy: You know what I always look for? I find so often that a character who would have a body like mine would have a point of view like "I'm a fat person going to work. I'm a fat person driving a car." I am a fat person, and I probably never think about my body—of course there are moments—but 90 percent of the time, in my relationship, I never think about that. I would much rather play a role as someone who has a goal, is a person, or whatever, and is not completely ruled by their body, which sounds like an easy thing.Amy: No, we were talking about that. It's cool when a magazine or a soap company has a more diverse approach to marketing, whether it's with body types or people of color, but to call it out and label it and bring attention to it and congratulating yourself kind of negates it. Why don't you just have these people and not pay yourself on the back so hard. "Our charity this month is putting these monsters in our magazine."
[Everybody laughs]
And those sales are always the best; Black Panther is breaking records. Everyone is like "We're going to be nice to you now," and the response is "Do you want to make money?"
Aidy: Do it; it's just better.So with your next break—I don't know if you're coming back to "SNL"—do you know what you're doing?Aidy: I'm back, honey! We were talking about this earlier, I think the thing I've learned about myself is that I have to write it myself. You've got to just do it your damn self.Amy: Yes, bitch! You can complain or you can do it.Aidy: I've spent a lot of time doing smaller thing her and there. Being in The Big Sick was the joy of my life, so fun. And it was another chance to do a movie with a friend. But for me, I'm writing on a TV show; I wrote a movie; and we'll see what happens this summer.Amy, I keep seeing your name attached to this Rebecca Miller movie [She Came To Me, with Steve Carell and Nicole Kidman also attached].Amy: I know. She's my favorite director. Did you ever see Personal Velocity?Aidy: No.Amy: Oh my god. It's so good. But I don't know. I have no information. I'm not withholding; I just don't know.So do you know what you're doing next?Amy: No. I ordered a lot of food for lunch. Did you hear what I ordered?Aidy: Yeah. That's how I feel too.Your short-terms goals are set.Amy: Sure. When someone else is paying: "I'll have this and this."Thank you both so much.Amy: Thank you. Good seeing you again.Aidy: Great to meet you.