'Jurassic World: Fallen Kingdom' Trailer Breakdown: It Was All A Lie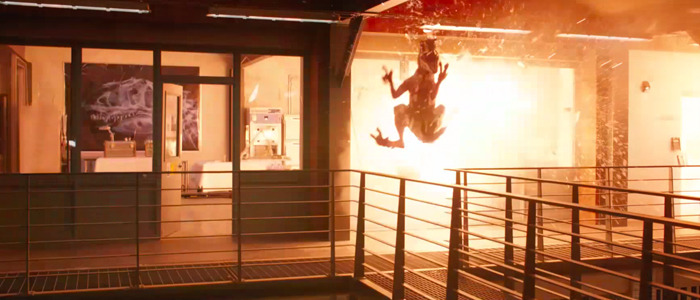 Universal has debuted a new trailer for Jurassic World: Fallen Kingdom, and it's very different from anything we've seen in the franchise thus far. Join us for an in-depth trailer breakdown below.
Jurassic World Fallen Kingdom Trailer Breakdown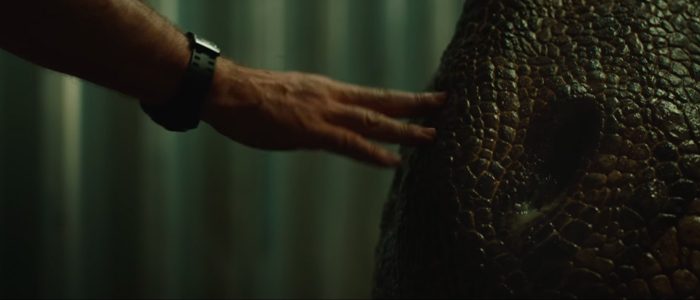 The trailer kicks off with Chris Pratt's Owen Grady and Bryce Dallas Howard's Claire Dearing inside a shipping container with a sleeping Tyrannosaur. But the very first shot of Owen physically touching the T-rex is also something of a mission statement from director J.A. Bayona, announcing to the world that there will be more tactile and practical dinosaur effects in his movie than there were in the previous Jurassic World.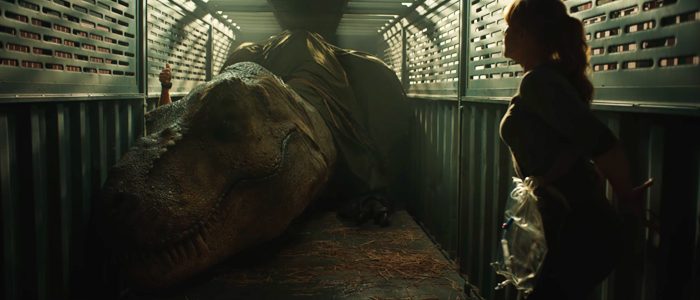 After confirming that the T-rex is tranquilized, Owen is crushed against the side of the container and literally does a thumbs up and an "I'm OK!" joke. Not exactly a great start to this trailer. And as we've seen in previous trailers, the dino isn't quite as sedate as they think: Owen dive-rolls through its jaws just in the nick of time.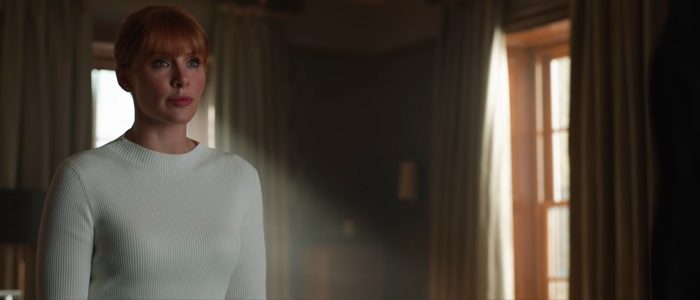 After a quick shot of a volcano erupting and dinosaurs fleeing from the eruption, we hear Claire asking someone "How many can you save?" She's part of the Dinosaur Protection Group, a new organization devoted to, uh, protecting the dinosaurs, and after the events of Jurassic World, this is a cause that's close to her heart.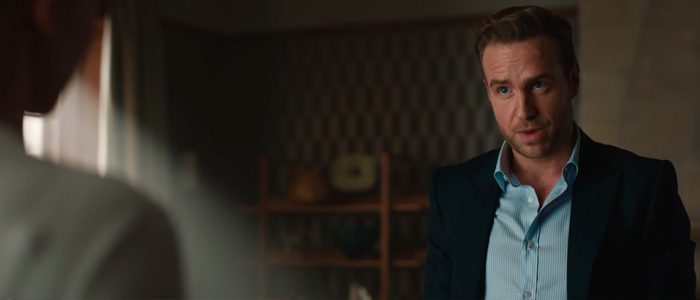 She's talking to a new character whom we don't know much about yet. His name is Eli Mills, he's played by actor Rafe Spall, and thanks to an interview with Spall, we know his character is "in the whole movie." That's about the extent of it.
He tells Claire he can save eleven species (what a seemingly arbitrary number!). He opens a virtual map on the table between them.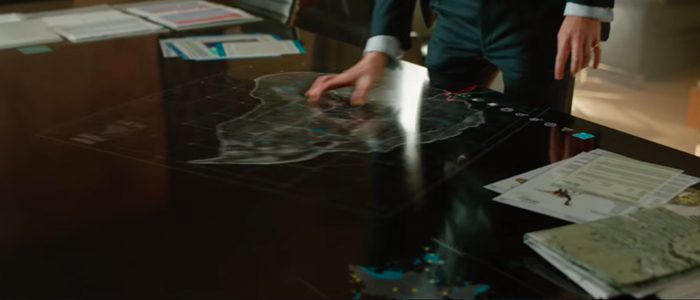 But when he slides it over to her...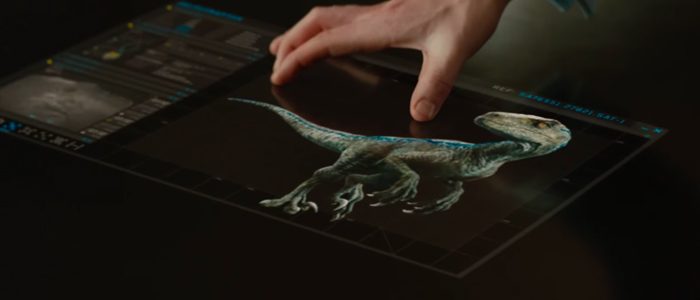 ...it magically becomes an image of Blue, the raptor Owen Grady trained in Jurassic World. I'm guessing that in the movie, this shot will be a close-up of a location on the map, and it's been changed here with some trailer trickery in order to remind audiences who Blue is before showing her again.
Mills says Blue is the last of her kind (RIP Echo, Delta, and Charlie). Claire tells him he'll never be able to capture her, and Mills responds, "We thought you might know someone who could help." (Psst. He's talking about Owen.)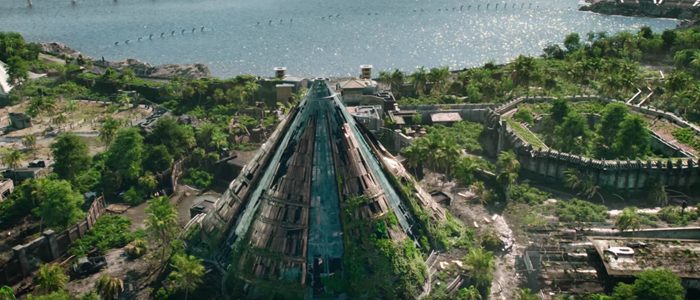 Owen looks out a plane window as he cruises over the destroyed remains of the Jurassic World theme park, quipping, "A rescue op? What could go wrong."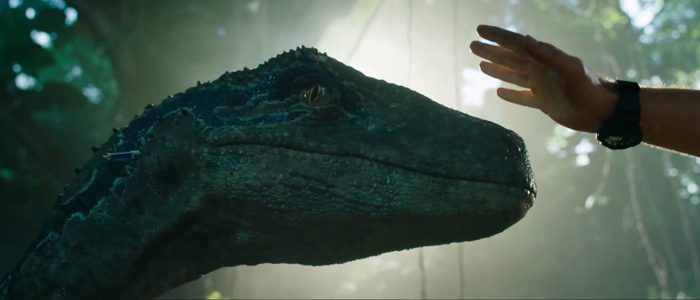 Owen finds Blue in the jungle, but Blue does a great impression of Will Ferrell in Old School and gets a dart in her neck.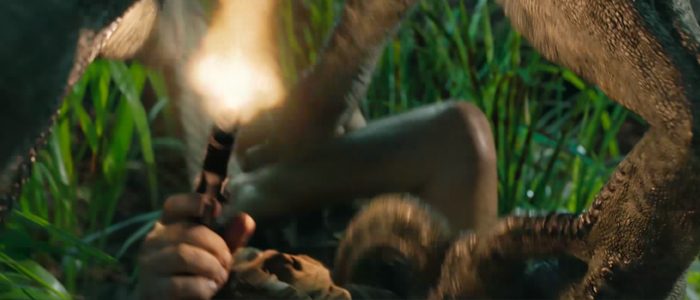 A gaggle of trained soldiers encircle the two of them. Who are these guys? Owen's supposed to be there on a rescue mission with the Dinosaur Protection Group, and I didn't think there was anyone else crazy enough to be on the island – especially when it's so volatile. But despite Owen's warnings that they should back off, they keep coming and Blue attacks. One of the guys gets off a shot with what looks like a real gun (not just a tranquilizer), and Blue goes down hard, much to Owen's horror.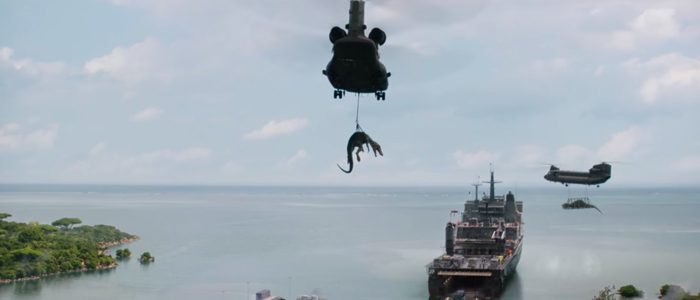 The very next shot is this one, which is designed to make us think the dino hanging from the helicopter is Blue herself. But it looks to me like that's a different species altogether. Regardless, we know Blue survives that encounter because we see her later in this trailer.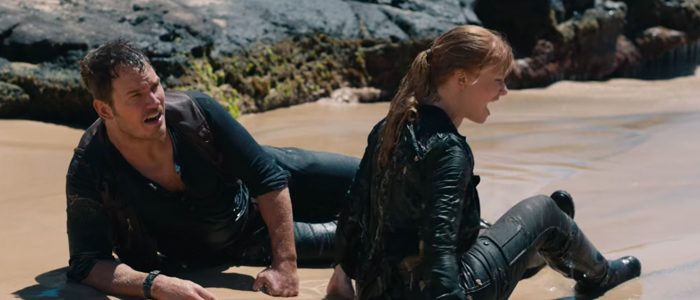 "It was all a lie!" Claire screams. Looks like she and Owen have washed up on a beach – possibly after they go over the edge of the cliff in the first trailer. But what was all a lie, exactly? Well, it appears that Eli Mills deceived them into going back to the island so he could get his hands on Blue (those soldiers were almost certainly working for him).
"The man who proved raptors could follow orders...you never thought how many millions a trained predator might be worth?" Mills says diabolically.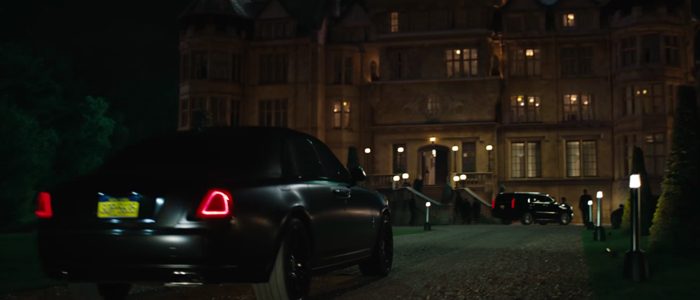 Here's where the tone of the trailer undergoes a drastic shift. This estate seems to be one of the primary locations for the back half of the movie, and the idea of dinosaurs creeping through hallways underscores why Bayona was chosen to direct this movie. (He's still perhaps most famous for directing the 2007 horror film The Orphanage.)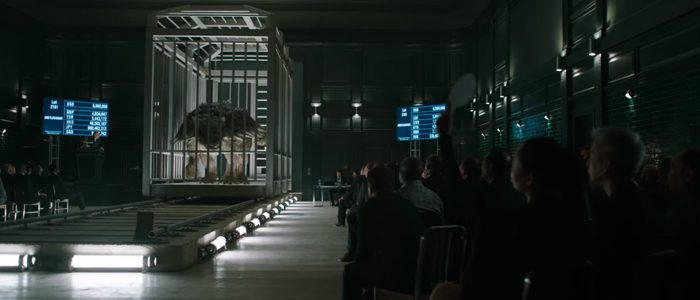 "They're going to sell them," Owen says, and that's exactly what they're doing. This ankylosaur is going for a cool $6 million.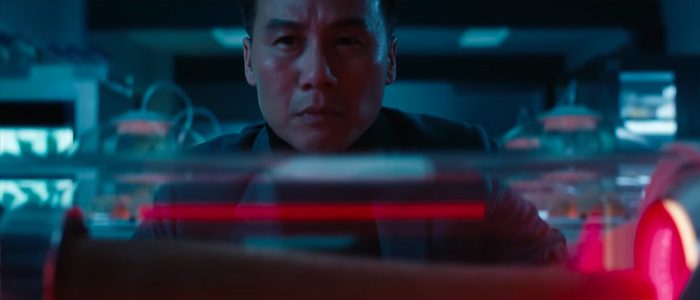 "Not Blue," says Dinosaur Protection Group member Zia Rodriguez (Daniella Pineda). "They need her for something else." My guess? Dr. Henry Wu (BD Wong) needs a sample of Blue's blood in order to genetically engineer the Indoraptor, "the most dangerous creature that ever walked the Earth."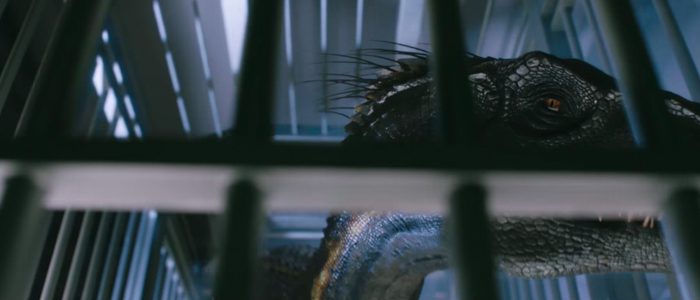 See that yellow streak on its neck? I'm guessing that has something to do with Blue's DNA.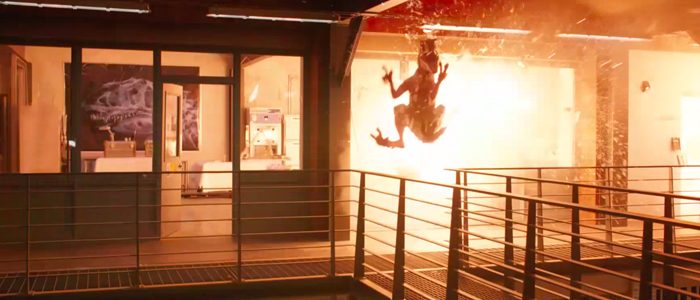 After Owen and Blue reunite, we arrive at the best moment in this trailer, and perhaps the best moment of any trailer ever produced. It's a raptor! Crashing through a window! Escaping from an explosion!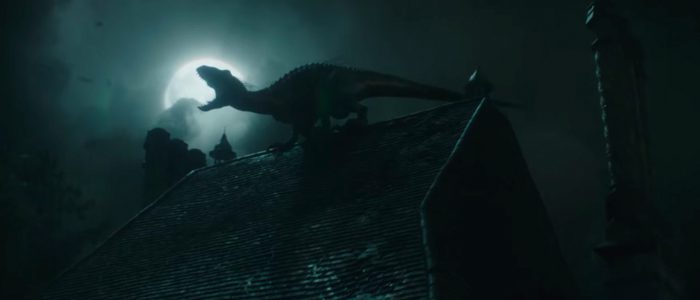 This is a pure Bayona shot right here. A haunted house with a dinosaur on the roof? If the back half of this film is mostly comprised of shots like this and the previous one, I think I'm going to LOVE this movie.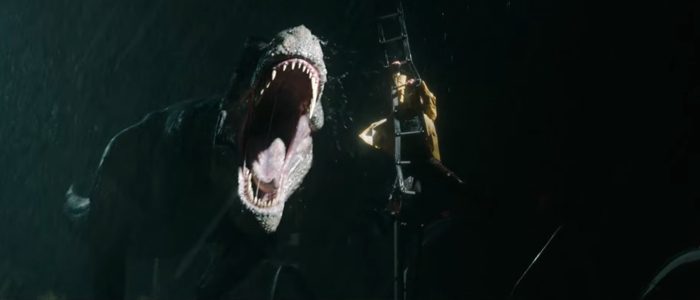 This shot of a rampaging T-rex looks like it could have come straight out of Steven Spielberg's original Jurassic Park.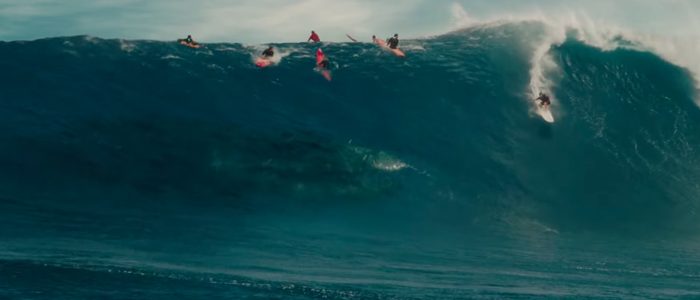 And how can you not love this shot, which is ripped straight from early concept art for the upcoming shark movie The Meg?
The rest of the trailer is largely made up of moments we've seen before in other marketing materials, including the Indoraptor climbing into a little girl's bedroom and menacing her. Is that a dream sequence? Is it real? Who knows anymore with these movies!
Jurassic World: Fallen Kingdom hits theaters on June 22, 2018.