Small Screen Stream: The Best Television Streaming Now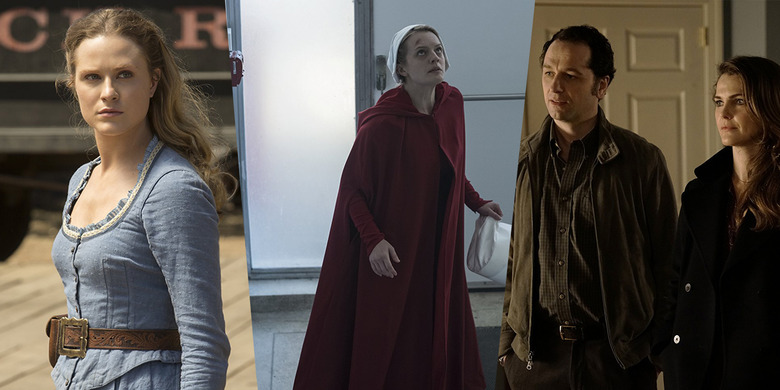 (Welcome to Small Screen Stream, a feature where we share the best television shows streaming and where you can watch them.)
Ahoy, streaming fiends. We're here with a brand new column dedicated to ready-to-watch television. There's a mountain of content out there, so I'm here to help you keep track of what's new, what you're missing, and what you should catch up on before new seasons hit.
There's a little bit of all of that this week, so without further adieu, here's a look at the best small-screen streaming options currently at your fingertips.
Westworld, Season 1
Where to Watch: HBO Go and HBO NowCreated By: Jonathan Nolan, Lisa JoyCast: Evan Rachel Wood, Anthony Hopkins, Ed Harris, Thandie Newton, Jeffrey Wright, James Marsden, Jimmi Simpson, Tessa Thompson
We are less than two weeks away from Season 2 of HBO's Western robot epic Westworld, so there's no better time to catch up on (or re-visit) the first 10 episodes on your HBO subscription service of choice. The show is known for its twists and turns and major reveals, so it makes for an excellent binge. Creator Jonathan Nolan made headlines recently for teasing that he might spoil all of Season 2 in a pre-released video to curb spoiler culture; that wound up being a major rick-roll, but it definitely drummed up anticipation for what comes next. Westworld returns April 29, so put on those cowboy hats and play catch-up while you still can.
The Handmaid's Tale, Season 1
Where to Watch: HuluCreated By: Bruce Miller, Margaret AtwoodCast: Elisabeth Moss, Joseph Fiennes, Yvonne Strahovski, Alexis Bledel, Ann Dowd, Samira Wiley
The first season of The Handmaid's Tale was a breakout hit, a sadly relevant look at a near-future world where women's rights have been obliterated by a totalitarian, Christian theonomic government. It came out in the early days of President Trump's first term, when questions regarding female autonomy and equal rights were leading political conversations. The series struck a major nerve, and ignited a feverish devotion; it won eight Emmys, including Outstanding Drama Series and Best Actress for Elisabeth Moss, and two Golden Globes in the same categories. Season 2 launches April 25, so if you missed out on the first 10 episodes or want to revisit the world of Gilead ahead of the premiere, do it now. You'll want to be a part of the water-cooler talk for this one.
Lost in Space, Season 1
Where to Watch: NetflixCreated By: Irwin Allen (original series), Matt Sazama, Burk SharplessCast: Toby Stephens, Molly Parker, Parker Posey
A remake of the popular 1965 sci-fi series of the same name, Lost in Space debuted on Netflix last Friday to mostly positive reviews and with a fair amount of buzz. The polish of the series is notable; this thing looks like a high-budget feature film, not a streaming TV series. Ambitious production values aside, it's got a strong central story that should hook viewers right away. It's also got a delicious performance from Parker Posey as the villainous Dr. Smith (played by Jonathan Harris in the original), which, for my fellow Parker Posians, is a special treat that is on its own enough of a reason to check the show out.
Troy: Fall of a City, Season 1
Where to Watch: NetflixCreated By: Derek Wax, David FarrCast: Louis Hunter, Bella Dayne, Frances O'Connor, David Threlfall, Tom Weston-Jones
If you're a Greek mythology nerd like me, you'll want to check out Troy: Fall of a City, a foray into the story of the Trojan War and the great love affair between Paris and Helen. It's been a while since Hollywood attempted a story about the famous ancient city – the most famous adaptation is probably 2004's dismal Troy, starring Brad Pitt and Orlando Bloom – and this British/American series gives it its all. I don't know that it fully succeeds, but could anything? If you're familiar with the story, you'll know how truly bonkers it is, and how hard it is to weave straightforward history with the presence of gods like Zeus and Aphrodite. Troy: Fall of a City gives it the old college try, and the results are messy but highly watchable if you have a vested interest in the subject matter. It's also going hard for a Game of Thrones vibe, and though it hardly lives up to that pedigree, it makes for a nice little antidote in the yearlong gap before Thrones' return.
The Americans, Seasons 1-5
Where to Watch: Amazon PrimeCreated By: Joe Weisberg, Joel FieldsCast: Keri Russell, Matthew Rhys, Noah Emmerich, Margot Martindale, Frank Langella, Holly Taylor, Alison Wright
With my dying breath, I will protest the criminally under-seen status of FX's operatic espionage series The Americans, which is currently in its sixth and final season, and which deserves the accolades and appreciation that shows like Mad Men and Breaking Bad garnered during their respective runs. Granted, The Americans is a little less accessible; it follows a married couple from the U.S.S.R posing as American civilians in the 1980s, with a slow-burn aptitude that can feel cold and distancing at first. They don disguises to sneak their way into top-secret meetings, to sleep with the right people for intel, and to provide levels of access and information to Mother Russia. Keri Russell and Matthew Rhys are incredible as the leads, and the show works as both close look at Cold War politics and as the dissection of a pseudo-American family. Six seasons is a lot to catch up on, and the show doesn't exactly have a breakneck pace. But if you're ready for an investment with a lot of payoff, with incredible performances, and with a social relevance that will send chills down your spine, I highly recommend dipping into The Americans before the show bows out for good.
The Chalet, Season 1
Where to Watch: NetflixCreated By: Kadidja Haïdara, Kristine MetzCast: Catherine Brunet, Jean-Sébastien Courchesne, Julianne Côté
I'm a sucker for a good foreign import on Netflix, and I ate up The Chalet pretty fast. The series follows a group of friends who travel to a remote chalet for a weekend getaway. What's meant to be a relaxing vacation quickly spirals into nightmare fodder once they realize they have no cell service, no way of leaving, and start getting murdered one-by-one. The show has the spooky, misty aesthetics of fellow French series The Returned, and joins the ranks of cabin-in-the-woods-style horror stories. It's only six episodes, and ripe with tension, so it makes for a fun, cozy weekend binge – as long as you're OK with blood and subtitles.
Requiem, Season 1
Where to Watch: NetflixCreated By: Kris MrksaCast: Lydia Wilson, Joel Fry, James Frecheville, Sian Reese-Williams, Tara Fitzgerald
This is another foreign import, but I had to give it a plug before it disappears too deep down the Netflix content well. Requiem originally aired on BBC One before it came to Netflix in the States, where it debuted a few weeks ago. It tells the story of Matilda Grey, an award-winning cellist about to embark on a tour of America when her mother abruptly commits suicide. The death lures Matilda to Wales, where she attempts to piece together her mother's connection to a decades-old missing person case. Instead, she uncovers a ghost story with more sinister roots than she could ever imagine. The show is witchy and weird and genuinely scary, and ties together into a Twin Peaks-y sort of mind-fuck ending. It's another quick watch – like The Chalet, it's only six episodes – but it feels like a complete experience by the time you're done. America is slacking when it comes to truly great horror shows, so god bless Netflix for bringing in little gems like this to tide us over.