Steven Spielberg To Produce And Possibly Direct DC Comics Adaptation 'Blackhawk'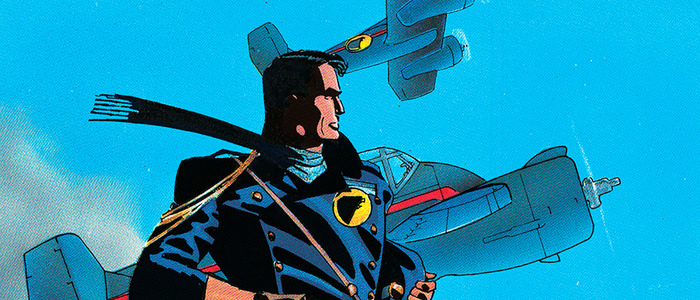 Steven Spielberg wants in on that sweet superhero action. Spielberg will produce a Blackhawk film for Warner Bros., adapted from the DC comics character. More on the Blackhawk movie below.
Following on the heels of Ready Player One, Steven Spielberg and Amblin Entertainment are reuniting with Warner Bros. for the DC comics adaptation Blackhawk. The film is based on a character created in the 1940s. Per Wikipedia, "Led by a mysterious man known as Blackhawk, the Blackhawks (or more formally, the Blackhawk Squadron) are a small team of World War II-era ace pilots of varied nationalities, each typically known under a single name, either their given name or their surname. Though the membership roster has undergone changes over the years, the team has been portrayed most consistently as having seven core members."
Longtime Spielberg collaborator David Koepp will write the script, and Spielberg will produce with Kristie Macosko Krieger, under the Amblin Entertainment banner, while Sue Kroll will executive produce. There are also rumors Spielberg might direct as well. If he does, it won't be for some time – the filmmaker is definitely going to make his West Side Story remake and the fifth Indiana Jones movie next.
Still, the film's basic premise – World War II ace pilots going on daring adventures – definitely seems like it's in Spielberg's wheelhouse; it would fit right in with his Indiana Jones films, and also the underseen Adventures of Tintin. Here's some more info on the character, via Wikipedia:
In their most well-known incarnation, the Blackhawks operate from a hidden base known only as Blackhawk Island, fly Grumman XF5F Skyrocket planes, and shout their battle cry of "Hawk-a-a-a!" as they descend from the skies to fight tyranny and oppression. Clad in matching blue and black uniforms (with Blackhawk himself boasting a hawk insignia on his chest), early stories pitted the team against the Axis powers, but they would also come to battle recurring foes such as King Condor and Killer Shark, as well as encounter an array of gorgeous and deadly femme fatales. They also frequently squared off against fantastical war machines ranging from amphibious "shark planes" and flying tanks, to the aptly named War Wheel, a gigantic rolling behemoth adorned with spikes and machine guns.
I'll confess I've never heard of this comic book character, and I'd feel a lot more excited about Spielberg directing almost any other DC-related movie. Still, more Spielberg is never a bad thing – although I'd feel more excited about this project overall if it was confirmed Spielberg was directing and not just producing. Perhaps the biggest winner here is DC, who now finally have some ammo against the MCU – Steven Spielberg.
Spielberg said, "It was wonderful working with the team at Warner Bros. to bring 'Ready Player One' to the screen. They bring a blend of passion and professionalism to everything they do and have a tremendous history in this genre. I am excited to reunite with them on Blackhawk."