'Labyrinth' Musical Will Bring The Goblin King To The Stage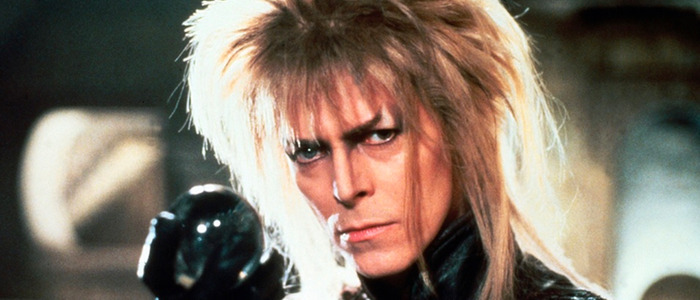 Get ready to dance, magic, dance all over again, as a Labyrinth musical is bound for the stage. Brian Henson, son of Jim Henson and Chairman of The Jim Henson Company, says plans for a Labyrinth musical based on the cult classic film are currently underway.
Fans of Labyrinth, the Jim Henson film starring David Bowie and a bunch of gross puppets, have longed for more of the film for years. Rumors of a sequel have existed for some time now, but the prospect of another Labyrinth film dimmed considerably when Bowie died in 2016. There's a Labyrinth comic book in the works that will explore the origins of Bowie's character, but if you want even more, you might be in luck.
In an interview with Forbes, Brian Henson, son of the late Jim Henson and Chairman of The Jim Henson Company, says that while a sequel remains unlikely, a musical is definitely in development. Henson actually says there are "two areas of excitement" for the Labyrinth property to get excited about:
"There isn't really an update [on a sequel]. I can say we are still excited about it but the process moves very slowly and very carefully. We're still excited about the idea of a sequel, we are working on something but nothing that's close enough to say it's about to be in pre-production or anything like that. We are working on a theatrical adaptation of the original movie for the stage. Those are the two areas of excitement for the Labyrinth property that we have. We are working on both of those but I certainly don't have a timeline for them."
When pressed if one of those "two areas" is a Broadway musical, Henson answers that Broadway isn't in the cards yet, but perhaps the West End:
"Not necessarily Broadway, it could be for London's West End, but it will be a stage show, a big theatrical version. It's very exciting."
Henson goes on to discuss the demos of songs for the film that David Bowie brought in early in production:
"I remember when David brought his demos, his first passes at the songs, and they were so beautiful. We were used to demos that would be a singer and a piano or a singer and a guitar but David had someone like the Harlem Boys Choir singing backup. He had these beautifully produced tracks and I remember my dad was very impressed and was like, "Well, there you go! There's a guy who's kind of like me." My father couldn't do something kind of halfway, he had to do it as big and as good as he could make it and David was very similar. They both had a very similar, powerful artistic drive."
Sadly, Henson says he doesn't know what happened to those demos, but perhaps they'll surface some day.
I'm personally a little mixed on the idea of a Labyrinth musical. On one hand, Labyrinth already has a plethora of songs in place from the film, so obviously they would lend themselves nicely to a musical. Yet while I'm sure producers will pull out all the stops to turn any staged production into an entertaining extravaganza, I can't help but feel like any new take on Labyrinth will suffer due to a lack of David Bowie. The simple fact is, that for all of Labyrinth's puppets and effects, the element that truly made the film special was Bowie as Jareth the Goblin King, and it's virtually impossible to find anyone to replace David Bowie.
Unless Tilda Swinton is available, maybe...