Contest: Win A Piece Of 'The Endless' Concept Art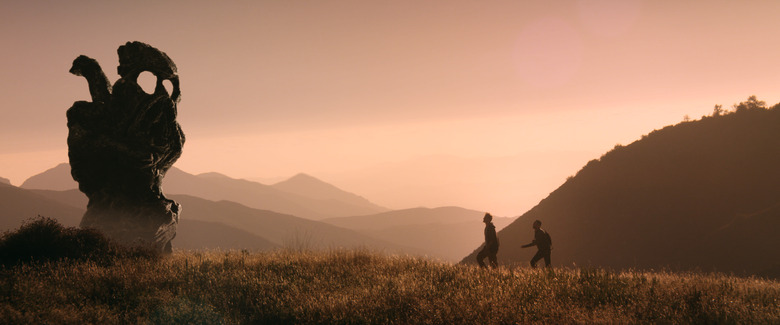 Those of you paying attention, yes – I've been quite busily covering Justin Benson and Aaron Moorhead's The Endless around these parts. I premiered an exclusive clip that teases an existential "Struggle," interviewed the duo about their cinematic inspirations, and now comes the most fun reveal yet in the form of a giveaway contest! It's time for us here at /Film to give back with a little help from our filmmaking friends, specifically, the team behind your new favorite mindfreak (according to myself and Jamie Righetti who reviewed the film out of Tribeca).
The Endless begs to be seen, and hopefully what's about to come ignites your motivational fire.
Below, you'll find a video that features flames, a book of scribbles and frantic page turning. As it turns out, Benson and Moorhead compiled the clip by using original sketches by the film's art director Kati Simon. In addition to getting a glimpse of the numerous drawings that spawned the film's visual aesthetic, a lucky reader (maybe you!) will receive one of these original art pieces designed for the film. All you have to do is follow the instructions as listed below and you're in the running – simple as that.
The Endless Contest
To enter, make sure you head down to the comments section of this article and tell us what your favorite mindbender of a film is and why. That's it! Our favorite response will win one of the exclusive Simon pieces. Good luck!
Here's The Endless' official synopsis:
Following their Lovecraftian modern cult classic Spring, acclaimed filmmakers Moorhead and Benson return with this mind-bending thriller that follows two brothers who receive a cryptic video message inspiring them to revisit the UFO death cult they escaped a decade earlier. Hoping to find the closure that they couldn't as young men, they're forced to reconsider the cult's beliefs when confronted with unexplainable phenomena surrounding the camp. As the members prepare for the coming of a mysterious event, the brothers race to unravel the seemingly impossible truth before their lives become permanently entangled with the cult.
The Endless is already out in New York City and Los Angeles. It will be expanding wider in the coming weeks.