Watch The Full Copper Key Race From 'Ready Player One'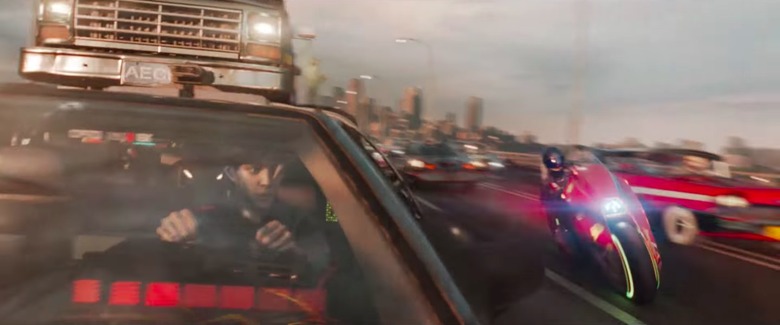 Are you ready to see the Ready Player One Copper Key race in full? Well, you're in luck, because the entire action-packed race is now online thanks to Warner Bros. Japan.
A Japanese TV spot for the Steven Spielberg-directed adaptation of Ernest Cline's bestselling novel shows the entire Copper Key Race from Ready Player One. You can see the full race starting from the 20-second mark.
Ready Player One Copper Key Race
Well, that was certainly a race. If anything, it accurately captures what it's like to watch someone play Mario Kart because there weren't enough controllers for you to join in. But hey, there's King Kong! That's cool!
This race is chock full of Easter eggs and '80s references, of which there are too many to name. There's Wade's (Tye Sheridan) trusty DeLorean from Back to the Future, and of course, Kaneda's bike from Akira that the mysterious Artemis is riding. Those two vehicles are the only ones that make it to the finish line of the Copper Key race, beating out the hundreds of IOI drones bent on hijacking the contest organized by the late James Halliday for control of his digital empire. .
But my favorite part of this TV spot happens before the race starts playing, when the Japanese TV spot plainly focuses on the one Japanese character in the film, played by Win Morisaki.
Ready Player One stars stars Tye Sheridan, Olivia Cooke, Ben Mendelsohn, Lena Waithe, Simon Pegg, Hannah John-Kamen, and Mark Rylance. It was written by Zak Penn and Ernest Cline, based on Cline's 2011 novel of the same name.Ready Player One is currently playing in theaters.
From filmmaker Steven Spielberg comes the science fiction action adventure "Ready Player One," based on Ernest Cline's bestseller of the same name, which has become a worldwide phenomenon. The film is set in 2045, with the world on the brink of chaos and collapse. But the people have found salvation

 in the OASIS, an expansive virtual reality universe created by the brilliant and eccentric James Halliday (Mark Rylance). When Halliday dies, he leaves his immense fortune to the first person to find a digital Easter egg he has hidden somewhere in the OASIS, sparking a contest that grips the entire world. When an unlikely young hero named Wade Watts (Tye Sheridan) decides to join the contest, he is hurled into a breakneck, reality-bending treasure hunt through a fantastical universe of mystery, discovery and danger.