Paul Thomas Anderson's Next Film Has A 600-Page Screenplay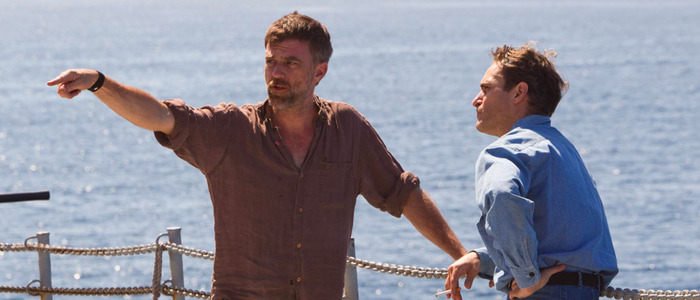 Paul Thomas Anderson might have his next project lined-up, and it has a whopper of a screenplay. According to the Phantom Thread filmmaker, the script for this film runs a staggering 600 pages. Now Anderson has to find a way to cut it down to a more manageable length. More on Paul Thomas Anderson's next film below.
The general rule of screenplay page numbers is 1 page = 1 minute. Of course, this isn't always the case, but this is usually why most screenplays have a standard 120-page length, equaling about 2 hours of story. If we were to stick to that rule, that would mean Paul Thomas Anderson's next film is currently (in script form, at least) 10 hours long. Speaking with The Ringer's Bill Simmons podcast (via The Playlist), Anderson revealed that his next probable film comes from a 600-page script. "What I will probably try to do next, foolishly, is go back to that 600-page thing that I have and try to see if there's anything to carve out of it," the filmmaker said, adding:
"I will probably try to daydream about what I know is in there and wonder how much I can get away with not looking at it and just write from what I know that's in there that is good. Because when you go back into those 600 pages, it's a briar patch isn't it? Right? You start to see something, 'well this is not a bad idea and maybe I should follow that thread?' And the next thing you know, two hours later you really pissed the day away, right?"
I'm a big enough fan of Anderson's work that I'd be fine if he just went ahead and made a 10-hour movie – but I also acknowledge that that's kind of crazy. Perhaps he can whittle the script down to something close to Magnolia-length (a little over three hours). Of course, it's the story itself that counts, and we're not really sure what that is yet.
In the past, word surfaced that Anderson, like most filmmakers now, was very interested in working with Girls Trip star Tiffany Haddish. "I've been talking to him on the telephone! I mean, he put his phone number out there, so I had to call. I've talked to him a few times and we're probably gonna work together," Haddish said. It's not clear if this is 600-page script is the project Anderson was talking about with Haddish, or if he has something else cooking on the back burner.
Anderson has also mentioned that he's working on a script with his eight-year-old daughter. In other words, it seems like the filmmaker has more than a few projects on his mind. Hopefully, he makes all of them, and soon. In the meantime, we can look forward to a portion of an upcoming Adam Sandler Netflix comedy special that Anderson filmed.