'Deadpool 2' Spoofs 'The Walking Dead' In New TV Spots; Tickets Go On Sale Thursday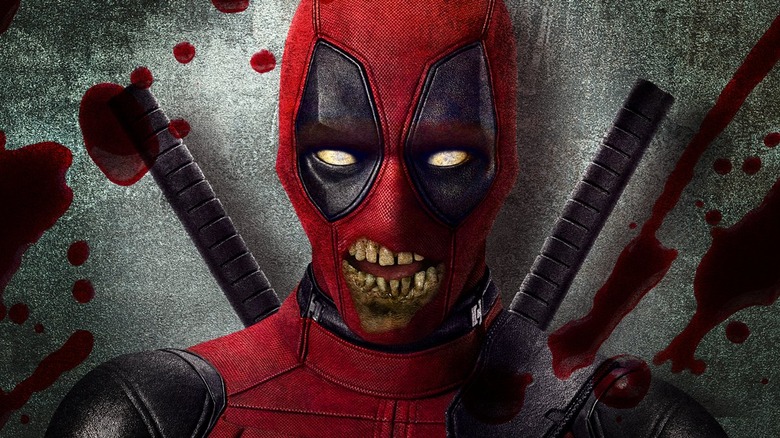 A Deadpool and The Walking Dead crossover would do amazing numbers, but it looks like the closest thing we'll get to that are a few Deadpool 2 TV spots that aired after the season premiere of Fear the Walking Dead.
Two of the bloodiest franchises in movies and TV combined their might on Sunday night. Deadpool 2 released a string of TV spots during Talking Dead, the live TV aftershow that dissected the season premiere of the Walking Dead spin-off, Fear the Walking Dead.
But it was more than just cross-promotional synergy: the spots were hyped up by none other than Deadpool himself, with the Merc with a Mouth creating a poster and even a hashtag to promote the string of TV spots. And now I can't stop thinking about an actual #WalkingDeadpool crossover.
Deadpool 2 TV Spots
#WalkingDeadpool is like regular #Deadpool, except one's flesh decomposes, and the other's just looks like it. Stand by for Part 2! pic.twitter.com/Yl7rqTzlYi

— Deadpool Movie (@deadpoolmovie) April 16, 2018
Want more #WalkingDeadpool? Tune in to @AMCTalkingDead. That Chris @hardwick is a QT. pic.twitter.com/R7NobOD9Bh

— Deadpool Movie (@deadpoolmovie) April 16, 2018
#WalkingDeadpool may be done, but you and me... We're just getting started. Tickets for #Deadpool2 are on sale Thursday. pic.twitter.com/bf1xFx0bYj

— Deadpool Movie (@deadpoolmovie) April 16, 2018
True to his fourth wall-breaking self, Ryan Reynolds filmed a small introduction to the spots, donning his Deadpool outfit and showing off a popcorn tub emblazoned with images of Deadpool. "Don't you just love it when two of your favorite things come together? Enjoy 'The Walking Deadpool.'"
The footage itself has little to do with Fear the Walking Dead, but hey, that crossover potential, huh?
In addition to three new TV spots — featuring some new footage of the X-Force — Deadpool 2 also used the moment to promote the day that tickets go on sale: April 19, 2018. That's only three days away, so if you want to get your dose of the Merc with a Mouth, you'd better get ready.
Directed by David Leitch (John Wick, Atomic Blonde). Deadpool 2 also stars Josh Brolin, Zazie Beetz, TJ Miller, Morena Baccarin, Brianna Hildebrand, Julian Dennison, and Terry Crews.
Here is the official "synopsis" for Deadpool 2:
After surviving a near fatal bovine attack, a disfigured cafeteria chef (Wade Wilson) struggles to fulfill his dream of becoming Mayberry's hottest bartender while also learning to cope with his lost sense of taste. Searching to regain his spice for life, as well as a flux capacitor, Wade must battle ninjas, the yakuza, and a pack of sexually aggressive canines, as he journeys around the world to discover the importance of family, friendship, and flavor – finding a new taste for adventure and earning the coveted coffee mug title of World's Best Lover.
Deadpool 2 hits theaters on May 18, 2018.