Inspired By 'Black Panther', First Ever WakandaCon Is Coming To Chicago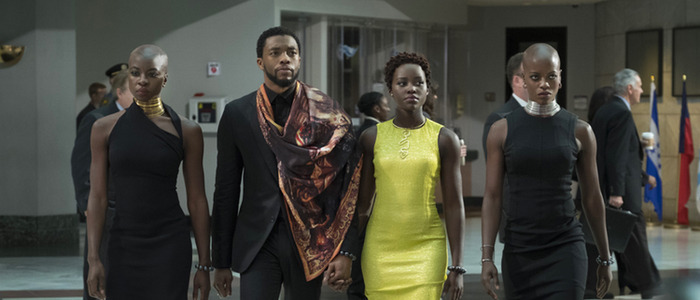 The world of Wakanda as depicted in Ryan Coogler's box office juggernaut Black Panther is a cultural oasis in which people from different backgrounds work together for a common cause. That fully-realized and detailed world was incredible to behold, and inspired by that vision, one family has put together a cultural oasis of its own in an attempt to replicate the feelings of creativity and unity in our world.
The first ever WakandaCon is coming to Chicago this summer. Read all about it below, including how to get tickets and how to participate even if you can't make it to Illinois.
Marvel Studios' Black Panther, which recently passed James Cameron's Titanic on the list of highest-grossing movies in the U.S., broke all kinds of barriers in Hollywood, and one of its biggest accomplishments was creating a complex world unlike any that's been on film before. Now Chicago's Barthwell siblings (David, Ali, and Matt) have set up a convention called WakandaCon (via Nerdist) that's inspired by that world and how it has touched audiences around the globe. Here's what the convention is all about:
A celebration of Afro-Futurism, Tech, and Black superheroes in film, gaming, television, and comic books.
Recent movies, graphic novels, and other media have ushered in a new wave of thought about issues surrounding the African Diaspora and a new future for Black people around the world. The image of an African country with advanced technology and equality has inspired some of the world's greatest thinkers and all of Black Twitter to create, think, and respond.
WAKANDACON is chance to take the conversation offline and into the real world.
WakandaCon takes place from August 3-5, 2018 at the Hilton Downtown Chicago, and a weekend pass will cost you just over $35. (Even cheaper discounted tickets are still available, but only for a limited time.) If you can't make it in person, there's a digital pass option which allows you to follow the action from afar courtesy of a dedicated streaming channel. You can buy both types of tickets at the event's official website.
Unfortunately, there's no information yet about which vendors will be attending or what kind of panels or programming will be available, but this is certainly a cool concept. It's inspiring to see people taking action and trying to connect over their love of a shared idea, and we need that kind of creativity and connection more than ever right now.