'Bao' Clip: A Piece Of Food Adorably Comes To Life In Pixar's New Short Film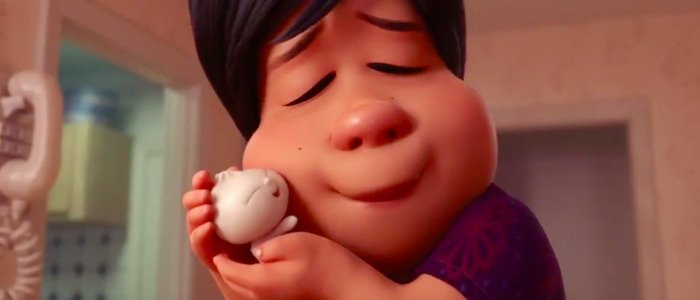 Disney/Pixar's Incredibles 2 arrives in theaters this June, but before we reunite with the superheroic Parr family, we'll be treated to a brand new Pixar short film called Bao. Now the first Bao clip has made its way online, and if there's such a thing as a trigger warning for cuteness, I'm implementing it now. Warning: watching this may cause squeals of delight or maybe an involuntary "awww" to escape from your mouth.
Take a look at the first Bao clip, which debuted this afternoon on Pixar's official Instagram page:
Bao Clip
Get a taste of Bao, our upcoming short opening ahead of #Incredibles2 June 15.
A post shared by Pixar Animation Studios (@pixar) on
Pixar shorts have depicted traditional family units going all the way back to Luxo and Luxo Jr., and the theme of parents and how they relate or interact with their children has popped up as recently as Piper, the terrific Oscar-winning short that played in front of Finding Dory in 2016. Bao, which is directed by Domee Shi (the first woman to direct a Pixar short), takes that parental vibe to an extremely non-traditional place: it's about a piece of food that comes to life, and the lonely mother (whose children have left her with an empty nest) who decides to take care of it.
We wrote about this "culinary fable" a few days ago, explaining that the story isn't just a burst of cuteness. Things get a bit more difficult when even the dumpling goes through puberty and its relationship with the mother is tested. Shi explained why a dumpling was the perfect form of food to use for this story:
"Often times it felt like my mom would treat me like a precious little dumpling, wanting to make sure I was safe, that I didn't go out late, all that stuff. I just wanted to create this magical, modern-day fairy tale, kind of like a Chinese Gingerbread Man story. The word 'bao' actually means two things in Chinese: Said one way, it means steamed bun. Said another, it means something precious. A treasure."
You'll be able to watch Bao in its entirety when the short film arrives in theaters attached to Incredibles 2 on June 15, 2018.