'Marvel's Jessica Jones' Renewed For Season 3 At Netflix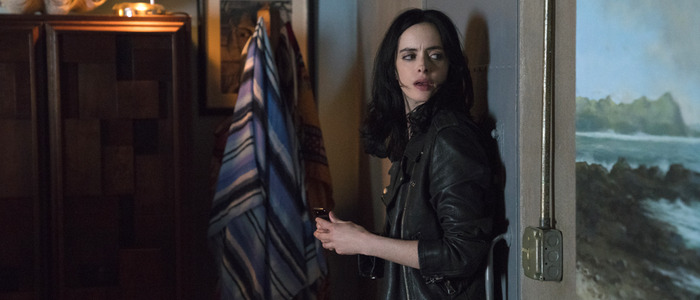 Raise a full glass of Scotch in celebration: Netflix has renewed Marvel's Jessica Jones for a third season. Krysten Ritter will return as the hard-drinking, hard-punching superhero private eye. Now let's just hope Netflix and Marvel work on their pacing problems.
This was expected, but it's still good news: Jessica Jones season 3 is a go. You can expect a whole new season of Krysten Ritter's Jessica Jones drinking drinks, cracking skulls, and offering up droll, hard-boiled narration. Jessica Jones is, without question, the best original Marvel series on Netflix, and I'm all for more of it. That said, the show (like most Netflix shows) really needs to work on its pacing. Season 2 was a bit of a mess, and dragged on at an interminable pace, telling what was essentially a 6-episode story over a period of 13 episodes.
In addition to Ritter, Jessica Jones stars Rachael Taylor as Trish Walker, Carrie-Anne Moss as Jeri Hogarth and Eka Darville as Malcolm Ducasse. David Tennant occasionally pops-up as a ghost, too. Season 1 found Jessica facing off against the manipulative, monstrous Kilgrave (Tennant). Season 2 had Jessica dealing with the fallout of her actions from season 1, while also digging into her past, discovering how she got her super powers, and coming face to face with her long-lost, super destructive mother.
It's too early to know exactly what will happen in Jessica Jones season 2, but series creator, producer and writer Melissa Rosenberg said in the past:
I always come to the end of every season wanting to leave as many doors open as possible. When you have a great set of characters, especially a great character like Jessica, you can tell stories for that character all day long, all life long. But it's really just about leaving doors open. I have vague ideas of what I would do at the end of the series, but I really am focusing on season by season, just leaving myself room and stories to tell.
Season 2 certainly left plenty of doors open, particularly when it came to Jessica's best friend/adoptive sister Trish (Rachael Taylor). Unfortunately, Trish's storyline in season 2 was kind of frustrating, so I'm not exactly excited to see where it goes. Despite these complaints, I really do think Jessica Jones is the best Marvel show Netflix has to offer, primarily due to Krysten Ritter's phenomenal, droll performance. As long as the show keeps letting Ritter do her thing, I'll keep watching.
While you await Jessica Jones season 3, feel free to listen to this song on an endless loop.