'Three Identical Strangers' Trailer: Three Brothers Find Each Other (And A Mystery) In This Doc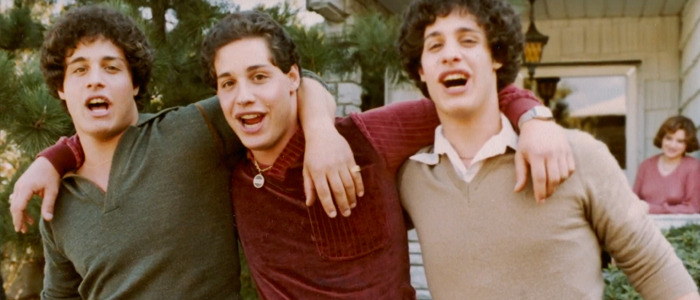 What if one day you found out you had an identical twin that you'd never known about? That'd be a pretty life-altering experience. But imagine then learning that there's actually a third sibling in the mix, and you were all separated at birth. That's exactly what happened to Bobby Shafran, Eddy Galland, and David Kellman, and in the Three Identical Strangers trailer, they take center stage in a documentary that not only tracks their reunion, but also uncovers a mysterious secret.
Three Identical Strangers Trailer
This is the feature directorial debut of filmmaker Tim Wardle, and it seems like he's done a heck of a job crafting this unbelievable true story into a compelling doc. The movie ended up winning the U.S. Documentary Special Jury Award for Storytelling at this year's Sundance Film Festival, which makes my failure to see it there back in January even more profound. (I tried desperately to check it out, but it wouldn't fit with my schedule.)
While the trailer hints at this, the film seems like far more than just a feel-good reunion story. It played at the True/False Film Festival last month, and received lots of reactions like this one:
THREE IDENTICAL STRANGERS – A cute crowd-pleaser slowly shifts into something more. And then shifts again... and again. An entire mini-series worth of fascinating ideas & troubling revelations crammed into a 96 min film. An exciting and masterful directorial debut. #truefalse2018

— Michael Haffner (@MPHaffner) March 4, 2018
This is a solid trailer, but if there are more secrets lurking in this movie, as many of these reactions suggest, I'm hoping to discover those while watching the actual movie. I can't wait to check this out.
It's only April, and it's already looking like 2018 will be a great year for documentaries. Netflix is making waves with its buzzy Wild Wild Country, and we still have Won't You Be My Neighbor?, Robin Williams: Come Inside My Mind, Generation Wealth, and plenty more to come before the year ends.
Here's the official synopsis:
THREE IDENTICAL STRANGERS, part emotional family drama, part conspiracy thriller, and a gripping cinematic experience. Three Identical Strangers tells the astonishing story of three men who make the chance discovery, at the age of 19, that they are identical triplets, separated at birth and adopted to different parents. The trio's joyous reunion in 1980 catapults them to fame but it also sets in motion a chain of events that unearths an extraordinary and disturbing secret that goes far beyond their own lives – a secret that might one day answer a key question at the heart of human behavior.
Three Identical Strangers hits theaters on June 29, 2018.