'Barry' And 'Silicon Valley' Renewed By HBO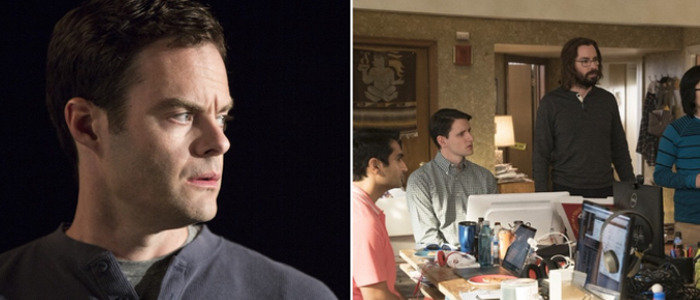 Barry Renewed For Season 2
Barry, HBO's super-dark comedy that's garnered glowing reviews, will be back for a second season. HBO announced the Barry renewal today. The series stars Bill Hader as a "depressed, low-rent hitman from the Midwest who finds himself drawn into a community of acting students while on a hit job in LA. He wants to start a new life, but his criminal past won't let him walk away. Can he find a way to balance the two worlds?" I've yet to sit down and watch Barry yet, but I've heard nothing but great things about it. In his review, /Film's Jacob Hall said:
"Barry is off to a strong start and if it maintains its momentum, HBO could have the next Veep or Silicon Valley on its hands. It's fresh. It's fun. It's decisively R-rated and bleak in that trademark HBO house style. And Hader, a brilliant supporting player, steps into the center and proves that he's the star we've always known him to be."
In addition to Hader, who also directs several episodes, Barry features Stephen Root, Sarah Goldberg, Glenn Fleshler, Anthony Carrigan, Henry Winkler and D'Arcy Carden. The show was created by Alec Berg and Bill Hader. Barry season 1 is currently airing, and will conclude on May 13, 2018.
Silicon Valley Renewed For Season Season 6
Barry isn't the only HBO comedy that received good news today – Mike Judge and Alec Berg's Silicon Valley also got the go-ahead for another season. The series "takes a comic look at the modern-day epicenter of the high-tech gold rush, where the people most qualified to succeed are the least capable of handling success." Thomas Middleditch, Josh Brener, Martin Starr and Kumail Nanjiani star. At one point, T.J. Miller was part of the cast as well, but let's all move on and pretend that never happened.
Like Barry, the current season of Silicon Valley will wrap-up on May 13, 2018.
"While Barry has delighted audiences with its deft interplay of comedy and drama, Silicon remains as brilliantly and frighteningly prescient as ever," said Amy Gravitt, executive vice president, HBO Programming. "We're thrilled that these two smart, funny shows are returning for another season."
I'll confess I haven't watched Silicon Valley since its first season, but plenty of people have told me it's still going strong. It must be, if HBO is willing to give it yet another season.