Martin Scorsese Directing 'SCTV' Reunion Special For Netflix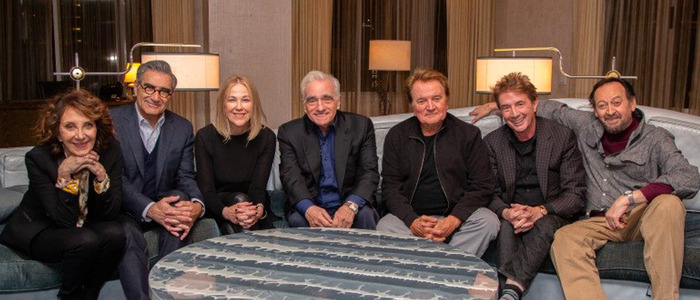 Master filmmaker Martin Scorsese will helm a Second City Television reunion show for Netflix. The SCTV reunion will feature a sit-down interview with Joe Flaherty, Dave Thomas, Eugene Levy, Andrea Martin, Catharine O'Hara, and Martin Short.
Martin Scorsese wants to stay in the Netflix business. The Wolf of Wall Street filmmaker has the expensive, highly-anticipated The Irishman brewing over at the streaming service, and now comes word that Scorsese will direct a SCTV reunion special for Netflix as well. From 1976-1984, the Canadian television sketch comedy SCTV (Second City Television) launched the careers of prominent funny people John Candy, Eugene Levy, Rick Moranis, Catherine O'Hara, Harold Ramis, Martin Short, Dave Thomas and more.
According to IndieWire, the Netflix special "will 'explore the enduring legacy' of the series and feature a sit-down down interview with former cast members Joe Flaherty, Dave Thomas, Levy, Martin, O'Hara, and Short. The interview will be moderated by Jimmy Kimmel and filmed Sunday, May 13 at Toronto's Elgin Theatre at an event tiled 'An Afternoon With SCTV.'"
The comedy legends behind SCTV reunite for a special directed by Martin Scorsese. Coming soon to Netflix. pic.twitter.com/bLgcwOSkul

— Netflix Is A Joke (@NetflixIsAJoke) April 12, 2018
Martin Short actually announced the possibility of a Scorsese-filmed reunion almost a full year ago, but now it's official. In April 2017, Short told The Los Angeles Times:
"The thing about "SCTV" is we did it in a vacuum, so we weren't aware that it had any impact until many years afterwards. Tina [Fey] and Amy [Poehler, executive producer of "Difficult People"] — they worked at Second City. That generation of brilliant comedians, there are so many fans — Judd Apatow, Conan O'Brien, Jimmy Kimmel, Bill Hader. It's been 40 years since it's been on the air. We're in the process of talking about a reunion show. And Martin Scorsese has talked to us about directing it. I was just at a brainstorming meeting in L.A. with Rick Moranis, Catherine O'Hara, Marty [Short], Joe Flaherty, Dave Thomas and two of our original writers. We're seeing whether we want to have a reunion, or do we want to leave well enough alone."
Short brought up Scorsese's potential involvement in a reunion again in October 2017, telling the Chicago Sun Times:
"Marty is fascinated with why some comedy is timeless, when certain other comedy and comedians have a short shelf life," said Short, citing the late Eddie Cantor ("a huge star in his day, but would make you sick if you watched him today") as an example of someone who faded.
"But look at W.C. Fields or the Marx Brothers, and they are just as funny now. 'I Love Lucy' still plays on TV, and likely will forever," said Short, who then gave the students a great piece of advice.
"Whether it's comedy or something else — country music, opera, you name it — I think it's important to go see the greats. If you can go see a legend — go, even if you're not a fan of that particular genre. Everyone should see legends, just to understand why they are legends in their field."
There's no release date yet for Scorsese's SCTV reunion, nor is there a date for The Irishman, although rumor has it we won't see that film till 2019.