'Fonzo' Photos: See Tom Hardy As Al Capone In Josh Trank's Gangster Movie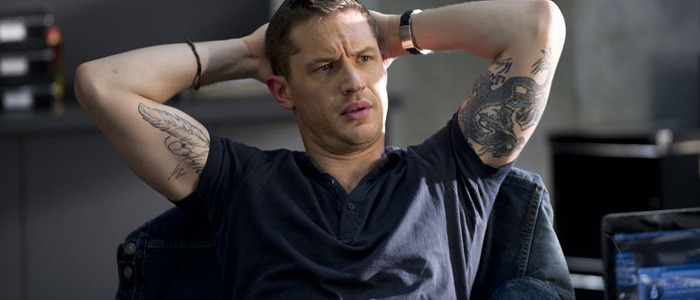 Tom Hardy is about to disappear into his next role. Filming is currently underway on Josh Trank's new movie Fonzo, in which Hardy plays the notorious gangster Al Capone, and Hardy has taken to Instagram to share a few photos of himself in character.
Fonzo Photos
Audrey and Jay Make up legends ??????????????????????????????????????????
A post shared by Tom Hardy (@tomhardy) on
First up, here's Hardy with his makeup team before they apply any prosthetics or makeup to him, just to provide a baseline of what we're about to see.
Mega awkward character misstep ?
A post shared by Tom Hardy (@tomhardy) on
In this one, the character is slowly starting to come into focus.
NOLA – ?? ?? ? National Unicorn Day ? ?????????????????
A post shared by Tom Hardy (@tomhardy) on
Here's the strangest of the batch, in which Hardy says he's "channeling a kind of inner Stephen Segal." It's unclear if this is an actual costume he'll be wearing in Fonzo, or if he's just in character from the neck up.
A post shared by Tom Hardy (@tomhardy) on
A primal scream. This is more in line with what I expected from Hardy's take on the character.
A post shared by Tom Hardy (@tomhardy) on
Take a look at those trenches on his cheek. Capone got those wounds after insulting a woman early in his career and getting sliced up by her brother, resulting in his nickname: "Scarface."
And finally, a photo from director Josh Trank that gives us our best look yet at the character. You can read much more about this film's plot right here.
I realize this is the most #basic complaint ever, but would it be too much to ask for Hardy to actually deliver lines of dialogue in an understandable manner this time? He has this habit of mumbling, wearing masks that obscure his mouth, or adopting bizarre voices that are often difficult to parse. It worked well in Dunkirk, for example, because that movie didn't require you to actually understand much of his dialogue for it to work. But I imagine Fonzo will be a little more reliant on understanding what he's saying, so fingers crossed his take on Capone doesn't involve an unintelligible voice.
Fonzo doesn't have a release date yet or a studio attached to distribute, which isn't too surprising considering how poorly Trank's 2015 Fantastic Four movie was received (and his behavior upon its release). I'm sure being fired from directing a Star Wars movie didn't help, either. We'll keep you posted on this film's future when we learn more.