'Hot Summer Nights' Trailer: Timothee Chalamet Becomes A Drug Dealer In This Romantic Thriller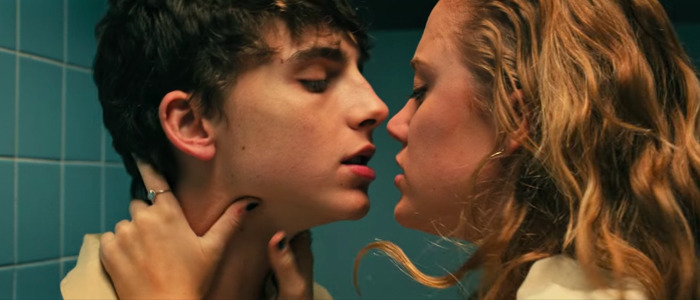 Timmy C is back, baby. After a stellar 2017 with a memorable appearance in Lady Bird and his breakout star-making role in Call Me By Your Name, Oscar-nominee Timothee Chalamet is about to hit the big screen once again. In the romantic thriller Hot Summer Nights, he stars opposite Maika Monroe (The Guest, Independence Day: Resurgence) as a teenager who becomes a drug dealer during a sweaty summer in Cape Cod in the early 1990s. Check out the stylish new trailer below.
Hot Summer Nights Trailer
Hot Summer Nights is the directorial debut of writer/director Elijah Bynum, and even more impressive, it's the first thing he ever directed – period. No shorts, no commercials, nothing. He wrote the script after graduating from college and it made The Black List (a list of the best unproduced screenplays of the year) back in 2013, but years went by before he found funding for the film.
In an interview with Consequences of Sound, Bynum explains how he ended up directing:
"For a while, I tried to get the movie made with another director, and we sat down with a few really talented, mostly music video directors, who were looking for a first feature. And they'd come in and they'd meet and I realized that they probably didn't appreciate this, but I was telling them how I envisioned it. And the more I talked about that, the more I felt like I have this movie more or less in my head and I know how I would shoot these scenes and how the camera should move or if I were to direct it this is what I would do... Saying that enough times sort of gave me the confidence where I felt like maybe, just maybe, given the right chance, I could take a crack at it."
Here's the film's synopsis:
Set in Cape Cod over one scorching summer, Hot Summer Nights follows Daniel (Timothée Chalamet), a shy out-of-towner who gets in over his head flipping weed with the neighborhood rebel (Alex Roe) while pursuing his new business partner's enigmatic sister (Maika Monroe). With a hurricane looming in the wings, tensions rise against a backdrop of drive-ins, arcades, and crashed parties as the stakes (and temperatures) grow ever higher.
Hot Summer Nights first premiered at the 2017 SXSW Film Festival and will debut on DIRECTV starting June 28, 2018, and then come to theaters on July 27, 2018.
Before I go, I want to make sure all of you have seen this video of Timothee Chalamet doing a Matthew McConaughey impression, because it's great:
Four years ago, Matthew McConaughey left Timothée Chalamet a voicemail that the young actor admits he committed to memory. Here, now, a recitation. pic.twitter.com/T9w83yTCUH

— GQ Magazine (@GQMagazine) March 2, 2018