John Krasinski Lines Up 'Life On Mars', His Sci-Fi Follow-Up To 'A Quiet Place'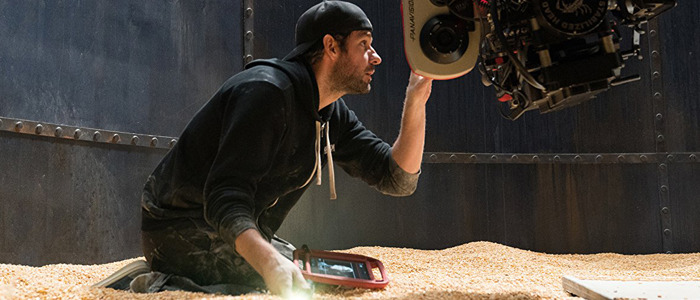 Former The Office star John Krasinski surprised a lot of people – us included – with A Quiet Place, his terrific new horror film that cost $17 million to make but has already grossed $85 million worldwide. We expect Paramount to green light a sequel any day now, but Krasinski isn't interested in waiting around. He's already signed on for his next directing gig, a sci-fi film called Life on Mars that will reunite him with the producers of A Quiet Place. Read more about Life on Mars below.
The Hollywood Reporter says Krasinski will reteam with Platinum Dunes producers Michael Bay, Brad Fuller, and Andrew Form for Life on Mars, which is not to be confused with the UK or US TV shows that aired in the mid-to-late-2000s. The film is based on a short story by author Cecil Castellucci called We Have Always Lived on Mars, and THR describes the plot like this:
"[The story] centers on a woman who is among a handful of descendants of a Martian colony long-abandoned by Earth following a cataclysm. The woman one day finds she can breathe the air on Mars, upending her world and that of her fellow colonists."
That's similar to A Quiet Place only in that it has a high-concept hook (although this one is apparently focused more on character than cinematic form this time around), and it'll be cool to see what he does with a different type of story here. The writers of A Quiet Place already have some ideas in mind for a sequel, but I'm glad Krasinski is capitalizing on the first movie's success and rolling straight into another project. I'd love to see him become a consistent, reliable presence directing high quality genre movies.
Krasinski found this short story and took it to the team at Platinum Dunes, but he's not expected to both direct and act this time around. Life on Mars also doesn't have a writer attached at this point, but I wouldn't be surprised if Krasinski ends up taking a pass at the script; he wrote the script for 2009's Brief Interviews with Hideous Men and co-wrote 2012's Promised Land and A Quiet Place. No word yet on if Emily Blunt would be interested in starring, but after the stellar work they did in their first collaboration, I wouldn't mind seeing them work together on a regular basis. Paramount is currently circling to distribute.
We'll be watching this one very closely, so stay tuned.