Huge 'Star Wars' News: Donald Glover Ate An Entire Pizza After He Was Cast As Lando In 'Solo'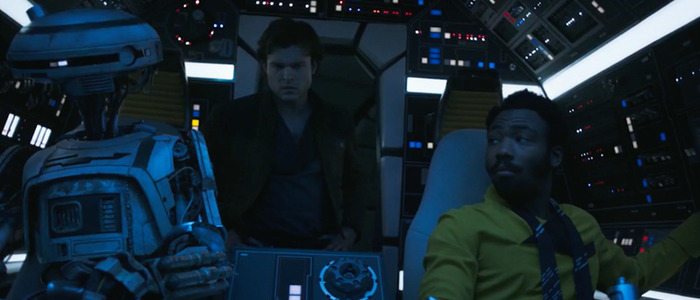 Did you know a new Star Wars movie is coming out next month? I know, it's been so long since we've gone to a galaxy far, far away, but it's time to go back. In anticipation of Solo: A Star Wars Story, stars Alden Ehrenreich and Donald Glover sat down with The Star Wars Show for a new Solo interview that features some shocking revelations about the upcoming Star Wars film.
Alright, I'm just kidding, the revelations in the video below aren't shocking at all. Still, if you're hungry for some Solo details, however minor, this is a breezy little interview with the new Han and Lando worth checking out.
Solo Interview 
Some takeaways from this video:
Donald Glover is ridiculously cool.
Alden Ehrenreich seems like a pretty nice guy!
Alden Ehrenreich says the film's version of Han Solo is "younger, [and] more of an idealist; he has a romantic vision [of his criminal lifestyle]."
Donald Glover reveals that the day he found out he landed the part of Lando, he bought a whole pizza and watched The Empire Strikes Back.
Glover also adds that when he approached the role, he didn't want to imitate original Lando Billy Dee Williams.
When asked how Solo differs from previous Star Wars films, Ehrenreich says that Solo has "a lot of jokes, a lot of humor, and more time with the inner life of the characters."
Donald Glover confirms that capes are indeed a big part of his character, and that by Empire Strikes Back, Lando has probably cut back on his cape budget a bit.
So there you have it. Nothing earth shattering, but amusing nonetheless. Solo has had a bumpy rode to the big screen, but I'm pretty darn excited for the film. The trailers have been very entertaining, and I have a feeling that director Ron Howard may just knock this one out of the park. Even if Solo does end up being a disappointment, though, I'm sure it'll be a hit. It's not like people are going to ignore a new Star Wars film, after all.
Solo: A Star Wars Story hits theaters on May 25, 2018.
Board the Millennium Falcon and journey to a galaxy far, far away in Solo: A Star Wars Story, an all-new adventure with the most beloved scoundrel in the galaxy. Through a series of daring escapades deep within a dark and dangerous criminal underworld, Han Solo meets his mighty future copilot Chewbacca and encounters the notorious gambler Lando Calrissian, in a journey that will set the course of one of the Star Wars saga's most unlikely heroes.