'Hearts Beat Loud' Trailer: It's Jam Sesh Time With Nick Offerman And Kiersey Clemons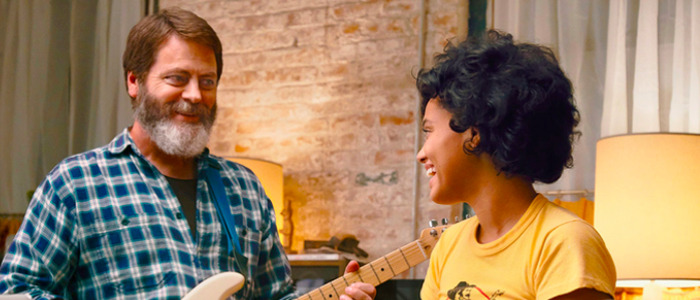 Hearts Beat Loud already has a reputation as a feel-good crowd pleaser thanks to its run on the festival circuit, and here's the first official trailer to prove all that praise is warranted. Nick Offerman plays a single father who talks his daughter (Kiersey Clemons) into starting a band. Watch the Hearts Beat Loud trailer below.
Well, this looks utterly delightful. There are some standard indie movie beats awaiting you in the Hearts Beat Loud trailer, but there also seems to be some genuine emotion wrapped up in that standard indie movie package. I was already sold on this before I watched the trailer, and then Ted Danson showed up wearing an Hawaiian shirt – which sold me even more. Check it out.
Hearts Beat Loud Trailer
I've heard nothing but good things about this film, and this trailer seems to confirm all that good buzz is warranted. /Film's own Ethan Anderton reviewed Hearts Beat Loud at Sundance, and praised the film as "sweet as hell" and "full of catchy original songs", adding:
This movie is what one might consider a Sundance cliche, but it's executed so earnestly and lovingly thanks to the performances and musical stylings of Nick Offerman and Kiersey Clemons. Not only does Offerman rock on the guitar, but Clemons has some beautiful pipes that I'd like to see her stretch even more in a musical. The duo brings the original songs written by Keegan DeWitt to life effortlessly, and you'll be nodding your head, tapping your foot and smiling ear-to-ear as the duo rocks all throughout the film. Adding to the delight of this movie are Toni Collette as Frank's landlord and possible love interest, and Ted Danson as Dave, Frank's bar-owning, weed-smoking, laid back best friend.
Hearts Beat Loud, starring Nick Offerman, Kiersey Clemons, Ted Danson, Sasha Lane, Blythe Danner, and Toni Collette (with a cameo from a stern-looking Jeff Tweedy) arrives in theaters on June 8, 2018. Don't miss it.
In the hip Brooklyn neighborhood of Red Hook, single dad and record store owner Frank (Nick Offerman) is preparing to send his hard-working daughter Sam (Kiersey Clemons) off to college, while being forced to close his vintage shop. Hoping to stay connected through their shared musical passions, Frank urges Sam to turn their weekly "jam sesh" into a father-daughter live act. After their first song becomes an Internet breakout, the two embark on a journey of love, growing up and musical discovery.